How did you find your place in public health?
My aunt, Dr. Ruth Nduati, got her MPH in epidemiology from the UW School of Public Health and is now an affiliate associate professor in the Department of Epidemiology. She is my role model—a physician and trained epidemiologist who works in HIV/AIDS research in Kenya. She played a significant role in my decision to pursue a career in HIV research.
I was inspired by the work she was doing and the difference she was making in many people's lives. I remember thinking as a child – I want to find the cure for HIV. Every paper I wrote in middle school, high school and college was about HIV and the role I was going to have in it. This goal evolved into a passion to look at HIV through a social and psychological lens.
I work with the HIV Vaccine Trials Network (HVTN) at Fred Hutch. The HVTN is a publicly funded organization developing vaccines to prevent HIV/AIDS. I feel like I'm realizing my childhood dream. It's amazing to think that I had this little inkling as a kid and now I'm working in this space.
Is this a new job?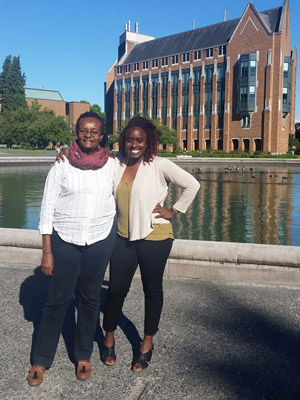 Linda Oseso with her aunt, Dr. Ruth Nduati
It recently became a full-time job, but I've been working with the HVTN since my second year at the UW. I didn't have a research assistant (RA) position lined up, so I reached out to Dr. Michele Andrasik, a clinical assistant professor of global health and lead social scientist for the HVTN. I was really interested in the intersection between HIV and mental health, and she's a clinical psychologist working in HIV vaccine clinical research.
I was hired to help develop educational videos for the Antibody Mediated Prevention (AMP) study. The goal of the study is to evaluate the safety and efficacy of a broadly neutralizing antibody to reduce HIV-1 infection among men and transgender individuals who have sex with men (in the Americas) and heterosexual women (in sub-Saharan Africa).
What an exciting place to be! What is your role?
It's very exciting! I'm the HVTN Social and Behavioral Sciences Project Coordinator. The Network's clinical research sites requested educational videos to help them inform their communities and participants on concepts, such as: What are broadly neutralizing antibodies? And how does the AMP study fit into the larger body of HIV research? I worked with a team to develop scripts for the videos and then co-facilitated focus groups across the U.S. to get feedback. The conversations helped us determine whether the scripts made sense and if the technical information presented was understandable and relevant to local communities. It was an opportunity to practice community-based participatory research—an approach that values the community's voice in the research process.
What was that experience like?
I'm a social scientist at heart; I'm an extrovert and I thrive on conversations. I felt really comfortable in that environment where I was asking people lots of questions about their experience with the videos. People were an integral part of the process.
Linda in UW colors long before grad school
Michele Andrasik got funding for several sites, so we had two South American countries and seven sub-Saharan African countries to visit. I recently returned from Malawi, Mozambique and Tanzania, where I held similar focus groups. Being from Kenya, I'm always excited about work that's being done in Africa.
What other interesting projects are you working on at the HVTN?
We're preparing for the AMP supplement, where we'll be collecting social and behavioral data on potential study participants who are screened and determined eligible but choose not to enroll, as well as participants who terminate early and/or are lost in follow-up. We'll conduct an online survey and interview participants. This new project will give me an opportunity to use the quantitative and qualitative skills I gained through my MPH program.
You were training for the Olympics in the hammer throw. How did you get into this sport?
In my junior year of high school, I was at a championship meet for shot put and discus. A UC Berkeley coach watched me compete and saw potential in me as a hammer thrower. I had never thrown the hammer before in my life, but I was intrigued. Ultimately, I decided to go to UC Berkeley and compete there, and I ended up doing well. I worked very hard and became kind of obsessed with perfecting my new craft. I watched a lot of videos on throwing techniques and studied my competition.
My dream was to compete for my country. During the summers, I would travel to Kenya for three months and train. I threw the Kenyan record at my first home meet in 2010 and qualified for the African Championships in Kenya and the Commonwealth Games in New Delhi, India. I also competed in Benin, Scotland, China and Morocco. I was co-captain of the Kenyan Athletics track and field teams that competed at the African Championships in Benin and Morocco, the World University Games in China and the Commonwealth Games in Glasgow, Scotland.
What are your future plans?
I complete my MPH this December and plan to apply to PhD programs in clinical psychology in a few years. I have a deep interest in the intersection of HIV and mental health in African adolescents. I want to dedicate my life to addressing mental health stigma and building capacity for mental health services.
My aunt was a huge role model for me and I believe that every young child should have access to a role model or advocate who guides them through the complexities of life. I love mentoring younger students and connecting them with people in career paths they are interested in pursuing.
I'm still deciding whether I'll return to training for the hammer throw. My main goal is helping Kenya to develop younger throwers and more throwers who qualify for major championships. My family funded a cage to be built in one of the training facilities in Nairobi. This helps hammer and discus throwers train daily in an environment similar to what they would see at international competitions. I'm looking for other avenues where I can continue to contribute to the development of throwers in my country.

(By Erica MacArthur)
Originally published: August 2016