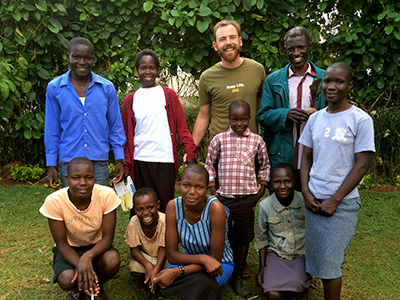 When women farmers in Rongo, Kenya, wanted help in growing more nutritious crops, they turned to local community leaders and Noah Derman (MPH, Global Health '10) for guidance. Within a short time they were able to meet their goal of regularly feeding over 40 people living with HIV with food they had produced.
They made more money at the market too, due to the variety of crops they now grew. And they discovered an added benefit—adherence to anti-retroviral therapy had improved.
This is one of the many projects in Africa that DIG (Development in Gardening), an international non-profit based in Atlanta, supports. Derman is deputy director of the organization that helps to train farmers in ways to improve soil quality, rotate crops and learn other skills such as land management that enable them to produce nutrition-sensitive, sustainable agriculture.
"We work right at the nexus of agriculture and health," said Derman, a combination that is not new to him. Prior to joining the first-ever class of graduate students in the UW Department of Global Health, he worked for five years in Thailand, first as a Peace Corps volunteer. He stayed on to support other volunteers and their counterparts on HIV-prevention activities and rural-education initiatives in Northern Thailand.
"It's important for me that my professional and personal interests align," said Derman. "With DIG, I'm able to do that. DIG focuses on social justice, the right to 'good' food, and sustainable living—building a sustainable livelihood for vulnerable populations." His job allows him a mix of project development, grant writing and partnering with local leaders in the various countries in Africa where DIG operates.
Derman appreciates the DGH program's emphasis on grassroots and community-based development, saying, "The program focused on breaking down the 'silo mentality' and presented development as something 'dynamic and interconnected.'" The consequences of NGOs' impact in the community, he notes, influenced him to strive for a holistic approach to development, one that works to meet communities' needs and requests. 
When not working from his home in Vermont or traveling to Africa, Derman enjoys hiking, snowboarding, and cooking, or simply hanging out with his wife and two young children.
(By Laura Cooley)