A version of this feature originally appeared in Northwest Public Health magazine in 2016. Anjum Hajat was a Research Assistant Professor in Epidemiology at the time.
Tell us about your research. What excites you most about your work?

My research looks at how social and environmental stressors such as poverty and air pollution cause cardiovascular disease. These stressors often have a disproportionate impact on disadvantaged populations, and subsequently their health.
I am interested in understanding the mechanisms by which these stressors enter the body and impact health as a way to form intervention strategies. I am fascinated by the intersection of social and biological factors—this is how social factors get under the skin.

A new area that I'm excited about and becoming more involved in is the health implications of economic policies. With colleagues in the School of Public Health and community partners, we are looking at the impact of work and non-work stressors on the health of low-wage workers.
Our long-term interest is to understand if Seattle's minimum wage legislation has any discernible impacts on the health of the low-wage working population. We are in the very early stages of this work, but we hope to be able to secure funding for a bigger, long-term study.

How did you become interested in this type of work?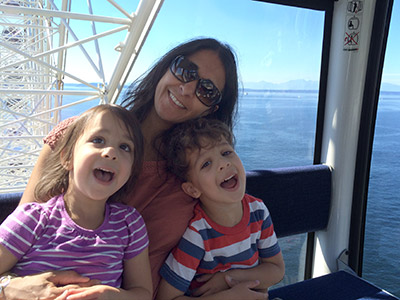 With her 5-year-old twins on the Seattle Ferris Wheel
I have always had a long-standing interest in inequality, history, and politics. These interests may have stemmed from my upbringing. I was born in Malawi, and we left when I was pretty young, but I think it left me with a heightened awareness of poverty and privilege.

My academic career started down a path towards international affairs, but then I took a great social epidemiology class with Dr. Sherman James (one of the leaders in the field). The class was extremely inspiring to me, and it changed the direction of the work I wanted to do.

Why is it so important to look upstream, in particular to social and environmental factors?

Social factors are the driving forces behind health inequities. Issues of social justice, poverty, and racial injustice are long-standing in the US. Similarly, the persistence of health disparities is also long-standing. We, as a society, still have so much work to do to address these issues, and it will take a lot of people working on them from all angles.
However, it is important to look at health in context because it's not only about individual level factors. Keeping the bigger picture in mind while working on upstream factors gives us the opportunity to have a wider-reaching impact if we consider that many different types of policies impact health.

As for environmental factors, simple things like the air we breathe and the water we drink affect everyone. It's a basic human right to have access to clean air and water, but the inequalities in access to a clean environment are real, especially when we think globally. I have just begun doing research in the area of environmental justice. It's such an important area and one that complements my other research interests.

How do we evaluate or measure the impact of work in social determinants?

Ultimately, social determinants of health will be responsible for the declines we see in long-standing inequities, but only by improving the health of disadvantaged populations. Measuring the impact of social determinant work is tricky because there are so many factors and moving parts that are interconnected.

Because of this interconnectivity, one way to measure success is through improved education outcomes in historically disadvantaged groups, more job opportunities for the chronically under- or unemployed, a reduction in incarceration, and improvements in civil participation. All of these areas of improvement will in turn build stronger, healthier communities.

How would you encourage students and young researchers to integrate a social determinants framework into their work?
Running at the Georgeous Relay outside of Portland
I have noticed that today's students are very tuned in to many of these social issues. They are creative, resourceful, and mindful about incorporating these issues into their work and into other parts of their lives. They probably don't need my advice, and I could likely learn a lot from them!

For those of us who would like to think more about social determinants, it can be easy to get stuck in the intricacies of our research or practice work and to forget the big picture. I encourage people to always consider their work within the context of a larger framework because there is a social element to most public health problems.
What do you do outside of work? 

When I am not working, I am usually chasing my 5-year old twins around (literally).  Since moving out here a few years ago, my family and I have been trying to explore the Pacific Northwest.  I also enjoy running, mostly half-marathons, and have found a wonderful running group that has introduced me to the world of relays.