Bonnie Duran has been well aware that indigenous people smoke more, often drink too much, and have higher rates of obesity than other groups. Find out how she's "decolonizing research" to improve the health of these communities.
Where does your passion for indigenous health come from?
I'm a mixed-race person. My father is Opelousas and my mother is Coushatta – tribes from Louisiana. I have been interested in Native health since I was in high school and as an undergraduate.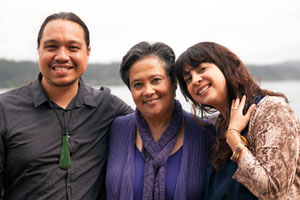 With colleagues Chris Charles and Glenda Breiler from the Indigenous Wellness Research Institute
Tell us about the UW institute where you work.
I was recruited from the University of New Mexico to work at the Indigenous Wellness Research Institute, beginning in 2007. It's an institutional-wide resource. The mission is to marshal the resources at the UW on behalf of the tribes in the US and indigenous people more globally. We're interested in partnering with anyone who wants to do that work, and is interested in cultural humility.
What are major health issues for Native Americans?
Native people have the highest smoking rates of anybody in the country. We have some of the highest binge-drinking rates, but we also have a very high abstinence rate – an interesting pattern. We have very high rates of obesity as well. My topic area has always been mental health and substance abuse. In Indian country, as with all other groups, chronic diseases are very much bound up with those issues.
HIGHLIGHTS
DrPH, MPH, UC Berkeley
BA, Health Education, San Francisco State
Adjunct Assoc. Professor, UW School of Social Work
CDC Health Equity Champion
What explains these disparities?
We're suffering from the epigenetic effects of colonization. A lot of people underwent forced removal from their homelands. They went through exposure to foreign infectious diseases. There were also issues of cultural genocide, like forced boarding school attendance. People were punished for speaking their language. Native religions were outlawed in 1888. A lot of cultural, social, economic issues impacted Indian country. Those things tend to make populations more vulnerable or susceptible to disease conditions in the current population.
It's a form of trauma?
Absolutely. For the last 30 years or more, we've had this theory of historical or intergenerational trauma to help explain the health disparities. Because of that, communities want public health interventions based on cultural revitalization and wellness approaches. There's a backlash against so-called evidence-based interventions. We just see that as the latest form of forced acculturation.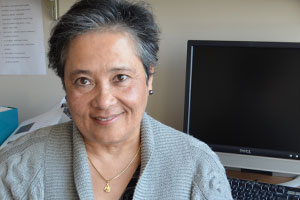 Duran seeks to work with others at the UW interested in "cultural humility"
Why is it challenging to make interventions work across cultures?
You can't tell people how to act culturally. What people do with their spare time, what they eat, what their social relations are – those are in the cultural sphere. The effect of public health interventions historically have been devastating to Indian country. I can show you a hundred public health articles talking about changing the health-related "primitive behavior" of Indian populations. This one (pulls it up on her computer screen) was written in 1873 in a medical journal and says that Native women were prostitutes. It's terrible. Here's one, from the perspective of a Christian missionary, talking about how Native women can't even give birth to their kids. And one epidemiological report from 1961 on "influencing the health practices of primitive people." 1961!
An excellent recent report from the Institute of Medicine makes this same argument. It says that when you target public health behavior in the cultural sphere, you have to get the explicit agreement of the people to do that. You can't do it without extensive consultation.
What's your role in this?
We're decolonizing research. This is one of the biggest issues in Indian country right now: That research is controlled by people in power, and tribes need to take control over what they're letting out there. That's why community engagement is so important. Research has been used to justify colonization. I also teach a course in community-based participatory research. It means working in authentic partnership with communities to ensure mutual benefit of research.
"Research is controlled by people in power,
and tribes need to take control over what they're letting out there."
Tell us about your current research.
I just finished two projects. I was one of three Principal Investigators looking at authentic community engagement in public health research. We surveyed 160 NIH- and CDC-funded research projects to test our model of community engagement. We have a good model now that predicts authentic partnership.

What did you learn?
One outcome worth highlighting: Even though Native projects were significantly less funded than other research projects, they had similar outcomes as far as sustainability and research papers published. That they're underfunded is another expression of health inequity. It's just so unfair.
What was your second project?
I just finished looking at a needs and capacity assessment around behavioral health for tribal colleges. There are 36 tribal colleges. Some are in the most rural, most economically depressed places in the United States. Preliminarily, there's a high level of binge-drinking among college students. But a really excellent finding is that there's also a high level of social capital among the faculty, staff and students. Given the correct resources, people believe they can come together and make a difference. It bodes very well for actually implementing some interventions.
What else are you doing to improve health disparities?
Now I have two new NIH projects. One is a psychiatric epi study at the community colleges. The other is to culturally adapt an evidence-based intervention targeting alcohol harm reduction for tribal colleges. We also just wrote a grant for mindfulness-based stress reduction for the Colville tribes.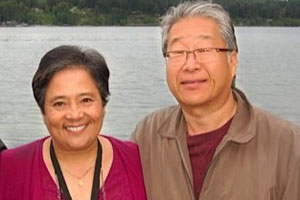 With her boyfriend, Stan Kondo
You practice mindfulness. How long have you been doing that?
After I graduated from college, the big deal in that day was to go overland to India from Europe and check yourself into a monastery to get used to Asia. So I checked myself into a Tibetan monastery in Nepal for two months and found that I had just come home. The idea that suffering was pervasive in our lives really resonated with my experience in Indian country. Since then, I've been practicing mindfulness. I'm now in a training program to become a Buddhist teacher.
How much difference can it make to our health?
I think mindfulness is huge. Once you learn it, you'll know how to do it forever. It has a huge impact on your quality of life, your level of stress. It helps with pain management and any type of health-regimen adherence. It has an impact on depression, anxiety and substance abuse. It's just a ubiquitously positive thing.
What else do you like to do?
Hang out with my extended family and my boyfriend. I like to hike around here. I'm expecting my entire extended family to come to Seattle for Thanksgiving. I'll be cooking for 30 people.
(By Jeff Hodson)
Originally published: November 2013