Can a woman's diet, lifestyle, socioeconomic status or environmental exposures affect the course of her pregnancy? How might they affect the occurrence of disease in her child? Do they affect male and female children differently?
These kinds of questions fuel Daniel Enquobahrie's curiosity about maternal and child health (MCH).
"We're talking about a topic that is not limited to a specific disease, is relevant for health throughout the course of one's life, and has both domestic and international implications," says Enquobahrie, associate professor of epidemiology and health services at the University of Washington School of Public Health. "Most diseases we know, at least in part, have early life or developmental origins."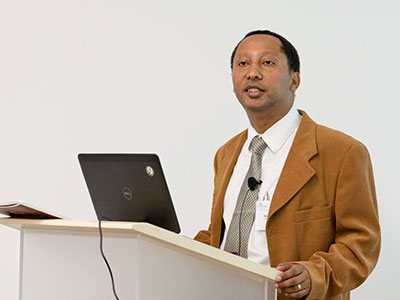 Daniel Enquobahrie presenting at the Eunice Kennedy Shriver National Institute of Child Health and Human Development.
Enquobahrie's main research focuses on the origin of disease and health during fetal development and how it relates to cardiovascular and metabolic diseases such as diabetes. He investigates the role of environmental and genetic risk factors in early life, and the complex interaction between the genome and the environment through epigenetic mechanisms.
His research team, focusing on a large study of women and their babies in Jerusalem, found evidence of the connection between early life socioeconomic position, characterized by paternal occupation and parental education, and DNA methylation at stress-response genes. DNA methylation – an epigenetic process used by cells to control gene expression – is one of the biological mechanisms for preserving cellular memories of early life experiences.
The team found that higher maternal education was linked to higher methylation at a gene related to cortisol inactivation. Methylation at this gene was also associated with lower adult weight and low-density lipoprotein cholesterol, or the "bad" cholesterol, important risk factors for developing heart and metabolic diseases.
The report on this research, supported by the UW Global Center for Integrated Health of Women, Adolescents, and Children, was one of 2016's best articles in the American Journal of Epidemiology.
Enquobahrie was named director of the School's interdisciplinary Center of Excellence in Maternal and Child Health Education, Science and Practice program in January. One of only 13 centers in the U.S., the Maternal and Child Health Bureau-funded center stands out for its rigorous academic training, mentorship and support for public health students and professionals working in MCH. Although the center primarily serves the Pacific Northwest, its impact reaches the wider WWAMI (Washington, Wyoming, Alaska, Montana and Idaho) region. 
The academic side of the program is a close-knit community of 15 to 20 MPH students and six core faculty members who teach in the Departments of Epidemiology and Health Services. Meanwhile, the practice aspect puts into context the academics and research by also sharing policy updates, community perspectives and resources for those working in the MCH field through the Northwest Bulletin: Family and Child Health newsletter and the Maternal and Child Health Webinar Series.
Enquobahrie at the MCH Research Festival.
More than 280 graduates have come through this program since its inception in 1985. Many work in academia, state agencies and non-governmental positions in Washington state and around the U.S. and have made significant contributions to MCH research as well as MCH policy development, implementation and evaluation.
"My primary goal is to continue the tradition of the program to attract strong students in Epidemiology and Health Services to the field of MCH and provide them with excellent training and mentorship," Enquobahrie says. "Their impact on maternal and child health can be huge."
Enquobahrie's instinct to train the next generation's top epidemiologists comes from a deep-rooted desire to mentor instilled by his own mentors, Harvard's Michelle Williams and Emeritus Professor David Siscovick, now at the New York Academy of Medicine, who led him to the intersection of perinatal and cardiovascular epidemiology.
One of Enquobahrie's greatest challenges is the scarcity of resources available for MCH programs, including funds and opportunities needed to train the MCH workforce and prepare the next generation of MCH leaders. Having students acquire necessary skills (including leadership competency skills) is a high priority to address old and emerging challenges. The declining support from the federal government for MCH research and MCH programs compounds the problem.
"It's pretty daunting," he says. "Given the significant public health burden of MCH problems and the shifting priorities for competing resources, the stakes have never been higher. We need to work hard to find innovative solutions to expand the evidence-base for MCH-related decisions, increase visibility in front of policymakers and funders, and eventually improve maternal and child health outcomes."
Despite the challenges, however, past successes fuel Enquobahrie's optimism. Nearly 20 years ago, as a fresh-faced general practice doctor in a Northwestern Ethiopian town called Injibara, he had to learn how to be efficient with his time and limited medical resources to provide clinical care and administer a health center.
"It wasn't easy," Enquobahrie says. "I haven't had to think about this problem much in the United States, but since starting this new position, it's at the forefront of my mind all the time."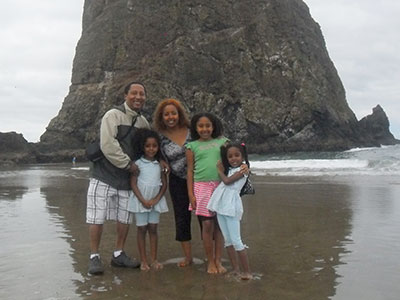 Enquobahrie and his family at Cannon Beach.
Enquobahrie grew up in Addis Ababa, the capital city, in a tight-knit family with his parents and brother. At a young age, Enquobahrie's parents encouraged him to pursue medicine. He completed his medical training in Addis Ababa and after a brief stint as a general practice doctor in Northwestern Ethiopian towns, Enquobahrie set his eyes on a new horizon: Seattle.
Enquobahrie's girlfriend (and now wife), Betty, moved to Seattle, and he followed, landing a research position at Swedish Medical Center's Center for Perinatal Studies, where he met Williams, then the co-director.
He later enrolled at SPH, where he earned his MPH and PhD. After a post-doc at Harvard, he joined the faculty in the Department of Epidemiology.
Between his teaching, research and new administrative roles, Enquobahrie admits it's a challenge to find the time to do the things he loves the most, including spending time with his wife and daughters, hiking, swimming and reading fiction books.
At home, his natural tendency to mentor and his passion for research is contagious. His daughters, Adrael (aged 10), Lael (7) and Ruel (6), are infected with pride and curiosity for their father and his work.
Once at the Pacific Science Center, during a Centers for Disease Control and Prevention outbreak demonstration for children, his three girls suddenly jumped and cheered at the mention of an "epidemiologist." This took him, his wife Betty and the rest of the crowd by surprise.
"I realized then that they had been listening to my conversations about work," Enquobahrie beams. "The girls fill our life with color. They snoop around with their inquisitive minds and curious eyes and look at my papers and books. They think they like epidemiology."
Enquobahrie spends as much of his spare time with them as possible, always exploring some part of Seattle or the Pacific Northwest. "We take pleasure in showing them things they haven't seen before," he says.
It's hard for him to hide his excitement when he talks about his girls.
"The additional motivation to contribute in the MCH field are my daughters," Enquobahrie says. "It is all about children and mothers, pillars of the next generation."
(By Sixtine Gurrey)
Originally published: 2017