Eric Larson is driven to find ways to prevent the onset of Alzheimer's disease and other dementia, and to delay cognitive decline in old age. For more than 30 years, he has studied thousands of people, 80 years and older, to understand how the body, especially the brain, ages. Now, Larson uses decades' worth of research results to propose a path for growing old in the healthiest possible way, while also highlighting the importance of public health for an aging society.
Why is the study of aging so important?
Longevity has been increasing since the late 19th century, thanks to improvements in sanitation, public health, medical care and education. People aren't only reaching older ages, but the onset of dementia is also happening later in life. I've published a couple of studies, alongside other researchers, that found prevalence rates for dementia, adjusted for age, have decreased. This is likely due to higher levels of education and greater health, wealth and well-being for people born later in the last century, as well as better control of cardiovascular risk factors.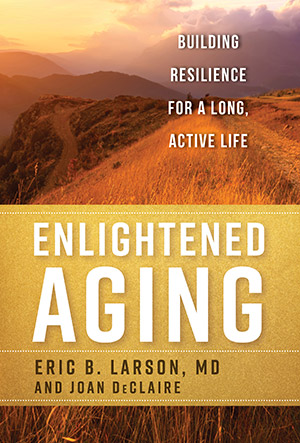 Enlightened Aging: Building Resilience for a Long, Active Life by Larson and Joan DeClaire
How did your discoveries inform your new book, Enlightened Aging?
Some of the things we've discovered about aging were simply that conventional wisdom was not correct. A lot of the early work we did 25 years ago was contradictory to results found in specialty clinics. I knew I needed to write a book to try to tell an accurate story of aging.
What does "enlightened aging" mean?
The key is to age with resilience. We bend and then come back, but not break. We have to take charge of our health and well-being, try to prevent what we can and manage conditions we can't change. To be enlightened is to accept the things that happen to us as we age, without letting it beat us down.
There is no "magic bullet." We need to focus on increasing our ability to recover from setbacks and adapt to changing circumstances through building mental, physical and social reserves.
What do you think the book accomplishes?
It changes the picture of aging. We're taking this tremendous demographic change, which some are calling "a tsunami," and saying that it's not a disaster. It's not something to fear. Rather, it's good that a lot of people are advancing to older old ages.
Pete Townshend from The Who sang, Talkin' 'bout my generation. Things they do look awful cold. I hope I die before I get old. We don't want people to 'hope to die before they get old.' This book challenges the ideas that we have long assumed about aging.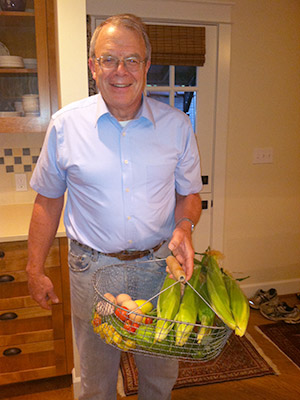 Eric Larson with fresh veggies from his garden.
Was it intentional to write a book with practical advice?
In the early days, there was no definitive book on aging. For my generation, every parent bought Dr. Spock's Common Sense Book of Baby and Child Care. I hoped that my book would be like that. I wanted it to be something that was going to be useful for an everyday reader.
(To get a sense of the recommendations in Enlightened Aging, which Larson co-authored with Joan DeClaire, a health and medicine writer based in Seattle, check out this piece in Columns magazine.)
Had you always been interested in aging research?
No. It was seen as the backwater of research and it was the farthest thing from my mind. The amazing thing is, now I'm absolutely fascinated by aging, especially aging in the brain.
What rivets you most?
Doing research on people 80 years and older is like Leeuwenhoek when the microscope first came along. (Antonie van Leeuwenhoek was a pioneer in microscopy.) He discovered things that no one else had the ability to see. Nobody has had the ability, until now, to study large numbers of elderly people. For example, in the Adult Changes in Thought, or ACT study, we've seen more than 5,000 people over the years, including 3,000 who have since passed and 700 of whom donated their brains to research.
Tell us more about the ACT study.
HIGHLIGHTS
Clinical Professor, Medicine
Vice President, Research and Health Care Innovation, Kaiser Foundation Health Plan of Washington
Senior Investigator and Executive Director, Kaiser Permanente Washington Health Research Institute
Principal Investigator, Adult Changes in Thought (ACT) Study
MPH, UW, 1977
MD, Harvard Medical School, 1973
BA, Stanford University, 1969
Member, National Academy of Sciences
It's always been a collaboration between the UW and Kaiser Permanente Washington Health Research Institute (formerly Group Health Research Institute). It's a longitudinal study of a group of people leading their lives in a community. We've followed them over the last 30 years to see what happens as they age.
We're looking for ways to prevent or delay the onset of dementia, including Alzheimer's disease, and declines in memory. If we could delay dementia by five years in just 25 percent of the population, imagine how dramatic the public health impact would be.
It would have a tremendous impact on nursing homes and other assisted living spaces. About 70 to 80 percent of people in nursing homes are demented and that number is growing rapidly. Delaying people's need to enter retirement will affect the economy and improve contributions people can make to the community.
How did the ACT study begin?
When I finished my MPH, I returned to intense clinical work as chief resident at UW Medical Center. I thought I knew a lot about dementia in older people. I started the UW's Geriatrics and Family Services Clinic with Burton Reifler, another MPH graduate, and I discovered that what I thought I knew was wrong. Aging studies tended to focus on populations of people under the age of 60. It just wasn't applicable to the patients we were seeing.
What happened next?
I started a research career somewhat informally. Then I got a few grants that led to the formation, in 1986, of the Alzheimer's Disease Patient Registry, which housed data on Alzheimer's disease and dementia. That evolved into the ACT study in 1994. My study colleagues were Walter "Bud" Kukull, who is now professor in epidemiology, and Gerald van Belle, who at that time was a professor in biostatistics.
You call the ACT study a "living laboratory of aging." What does that mean?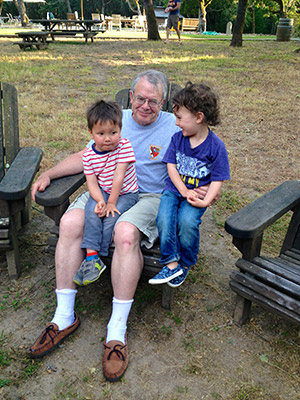 With grandsons, Blake and Liam, whom Larson says keep him active.
We wanted the ACT study to be a traditional cohort study, where we would draw a sample from the population. However, when you're studying people 65 years and older, the cohort tends to get smaller, fast. Now, our strategy is to constantly enroll people to keep the cohort at 2,000 folks without dementia. That's what creates a living cohort. It never dies out.
It's a laboratory because we've accumulated an immense amount of data over the years on our subjects. Participants have been patients at Kaiser Permanente (formerly Group Health) for a median of about 30 years. We have access to all their medical, drug and lifestyle data. We've also developed a rich genetic database and one of the world's largest brain banks.
We received an award to expand the study and to make data sharing more efficient. ACT data have been shared widely throughout the U.S. and, indeed, around the world.
What were some of the biggest findings to come out of the ACT study recently?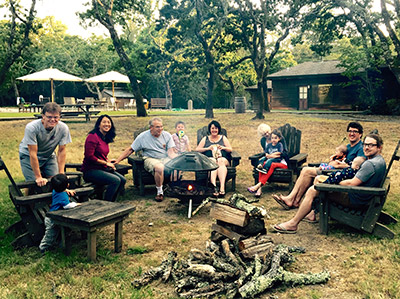 Larson gathering around a campfire with his family.
A couple of years ago, Paul Crane wrote a brilliant paper in the New England Journal of Medicine, showing that higher glucose levels may be a risk factor for dementia, even among people without diabetes. The implications for public health are huge. If we can control sugar consumption, presumably we could lower risk for dementia.
We've been doing some work on head injuries. There is increased interest in concussions from the National Football League and other sports. So far, we've shown that the neuropathological features of head injuries are more like the features of Parkinson's disease, than of Alzheimer's.
One of our most important findings, published in 2006, was that regular exercise was associated with 35 to 40 percent reduced risk for dementia among adults 65 years and older.
How do you stay active?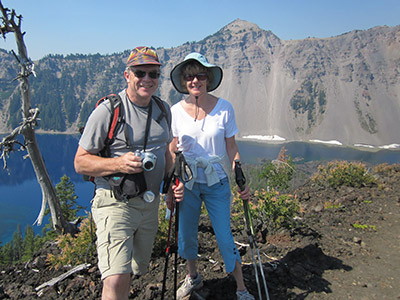 Larson on a hike with wife, Teresa Bigelow.
Earlier in life, I was an avid mountain climber. I actually did some research on altitude-related illnesses. I would leave to climb Mt. Rainier and tell my wife, Gotta go to work! I love the mountains and, though I don't climb anymore, I still enjoy hiking and skiing. I also play the piano and I've become a year-round bike commuter. I have five grandsons, all four years or younger, and one on the way. I love to garden and I raise chickens.
(By Ashlie Chandler)
Originally published: 2017