Fred Rivara and Arthur Kellermann conducted groundbreaking gun violence research in the 1980s and '90s. They found, among other things, that keeping guns in the house raised the risk of homicide and suicide among family members and friends. How did Congress respond? By essentially banning further studies into gun violence.
Describe your role in the debate over guns.
Unfortunately, the debate gets distorted by falsehoods. As a scientist and a physician, what I can contribute is information the public and policymakers can use to better make decisions about gun violence.
What did this research find?
During the '80s and '90s, we tried to answer the question: Does having a gun increase or decrease the risk of violent death? We compared Seattle and Vancouver, B.C., two similar cities with different approaches to guns.
FACTS ON GUN VIOLENCE IN THE US (2010):
Suicides: 38,364 
Of those, 19,392 were due to guns.


Homicides: 16,671
Of those, 11,422 were due to guns.
The homicide rate is substantially higher in Seattle and that difference is really due to the availability of firearms. We also studied homes in Seattle and Memphis, TN, in a classic case-control study. We found that having a gun in the home markedly increased the risk of homicide or suicide. For young individuals, the risk of suicide increased about tenfold. What gets lost in a lot of the debate is that there are actually more gun deaths from suicide than homicide.
These were landmark studies in the New England Journal of Medicineroughly two decades ago. What happened after they were published?
There was a restriction on gun funding. It was pretty shocking. Ten senators wrote a letter to the Secretary of Health and Human Services saying using federal dollars to lobby for gun control was unacceptable. We never did any lobbying. What they were really saying is that they didn't want to see this type of research being conducted. They threatened to defund the whole injury program at the CDC. They didn't end up doing that, but they reduced the CDC's budget by the same amount that was being spent on this gun research. The message was clear, and resulted in the CDC stopping any further funding for such research.
Were you disappointed with the Senate's recent failure to expand background checks?
I think all of us thought that Newtown was qualitatively different from other shootings and that it was a game changer. I think it has been to a great degree among the public, although not for elected officials in Washington and many states. The President pointed out that 90 percent of people want more stringent controls.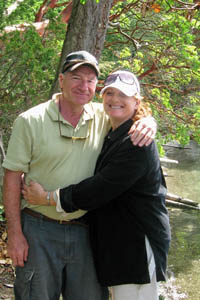 Fred and J'May Rivara

What can be done to influence legislators?
As public health practitioners, we can advocate for and collect more appropriate data to get a better understanding of the gun violence problem. Outside of getting rid of guns, which no one is advocating, what measures might be able to prevent violent deaths? A lot of variations on background checks have been proposed, as well as other measures. We don't have really great data on what the effect of many of those changes would be.
What are some other options?
The data suggests that storing guns safely with lock boxes or cable locks can dramatically decrease the risk of misuse of guns in the home. Can we create community campaigns to get that to be the routine for the public? What about smart technology for guns, where guns are more personalized and can detect your fingerprints?
Sounds like a James Bond device.
But those things are possible. I think there is a real role for research to help address a lot of questions people have raised in the gun control debate the last few months. And it's why I think it's so important for Congress to provide some funding for the CDC to answer these questions.
Can gun violence be tackled without serious changes in culture?
For us to change gun violence without changing the role of guns in our society will be difficult. Yes, there's hunting. Yes, there's target shooting. But when people talk about having guns to defend themselves, to defend their homes, what they're really talking about is being able to kill other people. As a society, we need to think very clearly about what that means.
HIGHLIGHTS
Grew up in Long Island, NY
MD, University of Pennsylvania, 1974
Distinguished Alumni Award, School of Public Health, 2009
Vice Chair, Department of Pediatrics
Seattle Children's Guild Endowed Chair in Pediatrics
Editor in Chief, JAMA Pediatrics
What drives your interest in gun violence?
Working at Harborview and looking at the data on who comes in to the hospital and who gets maimed or killed, as well as working with my colleagues Arthur Kellermann and John Henry Sloan, both SPH graduates. Overall, my impetus to work in the field of injuries for kids was driven by clinical experience. While the surgeons are terrific, there's only so much they can do. Ultimately, these are preventable problems.
"To change gun violence without changing the role of guns in our society will be difficult"
What attracted you to the UW?
I spent two years in the east Kentucky coal fields with the National Health Service Corps. I began to understand that health involved more than physicians treating patients who came to their offices. That led me to look for further training, and I entered the Clinical Scholars program here at the UW and earned my MPH. After four years on faculty at the University of Tennessee, I returned to the UW in 1984 to work on the problem of injuries.
One of your main areas of research has been bicycle-helmet safety. What impact have you had?
With colleagues at Group Health, we showed that helmets were markedly effective in decreasing the risk of brain injury – by as much as 88 percent. We developed, implemented and evaluated a community campaign to promote bicycle helmet use, particularly among youth. We increased the bicycle-helmet use rate from 2 percent to 70 percent. It served as a model for the rest of the country. This issue is even more important now with the development of bike-share programs and the use of bicycling both for physical activity and as a non-polluting means of transportation.
More recently, you've also been studying concussions?
I'm vice chair of an Institute of Medicine committee on sports concussions in youth. We'll have a consensus report coming out in the fall. It's a problem that most parents in the United States worry about. Are some sports safer than others? If my child has a concussion, when can they go back to play? When can they go back to school? What's the treatment? Should we have soccer helmets? Those are the kinds of questions people really want answered.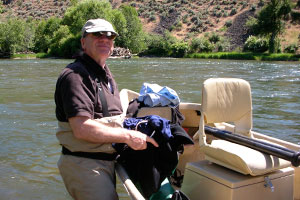 Fly fishing is one of Rivara's many hobbies
What do you like to do outside of work?
Fly-fish. Even if you're not catching a lot, it's usually beautiful to be out there standing in the river, part of the environment. I like doing woodworking – I made a Nakashima-style table for my son and daughter-in-law when they got married – and home-improvement projects. My two kids grew up here. Matt is a physician, and is here at the university as a nephrology fellow and his wife, Amelia, is a psychiatrist. My daughter, Maggie, is a social worker and mental health counselor in New York City at a public high school. My wife, J'May, is a faculty member in the UW School of Social Work (and adjunct lecturer for the School of Public Health).
What do you read?
A variety of things – fiction, mysteries and nonfiction. I just finished the latest biography of Thomas Jefferson and I recently read the last William Manchester book on Winston Churchill.
(By Jeff Hodson)
Originally Published: June 2013