Forget cake and ice cream. For her 13th birthday, Judith Wasserheit got a cadaver. The gift was from her mother who, as chair of Special Anatomy at the first Podiatric Medical School in the United States, was able to provide a very special introduction to the human body. The two would dissect the cadaver together on weekends at the morgue.
Such experiences gave Wasserheit a leg up on the competition. She entered Harvard Medical School at the age of 19. Today, the long-time leader in research on sexually transmitted diseases chairs the University of Washington's Department of Global Health, a post she has held for nearly a year. Find out where she wants to take the department.
Wasserheit on tackling the "big rocks" of global health 
What are the most important global health issues?
One is the emergence of implementation science, which is a scientific revolution in the making. A second would be the impact of global environmental change on health. And the third is the fact that chronic diseases have replaced infectious and communicable diseases and maternal and child health problems as the leading causes of death and disability in most parts of the world. We're exceptionally well-positioned to help in all three of these areas. I like to frame them as opportunities.
Why is implementation science so important?
The world has finally begun to realize that numerous interventions work well, but are either unavailable or have run into big snags as we tried to take them to scale in many low- and middle-income countries. Implementation science is a new paradigm that uses a framework of systematic, rigorous methods to help us close the gap between what we "know" works on the basis of traditional research, and what we "do" via health programs and policies.
We, at the UW, are very much at the cutting edge. We have the world's first and only PhD program in global health metrics and implementation science. We have a growing array of intensive and short courses, and keep getting asked to teach in more countries. One of the School of Public Health's current strategic-hire searches is to recruit a leader in implementation science.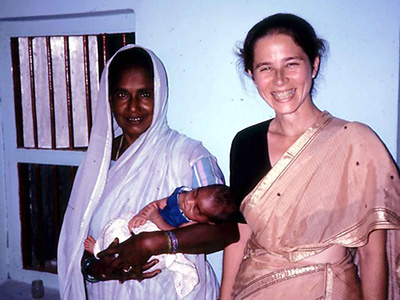 Judith Wasserheit in Bangladesh, where she spent two years as a research physician
What about climate change?
Many people, including the pope, would agree that climate change – and global environmental change more broadly – is one of the most profound factors shaping health and development in this century. We were very fortunate to recruit Kristie Ebi last August to lead the charge in bringing a broad array of interdisciplinary experts together to work in this area. She's got decades of experience as a leader in health and climate change.
And chronic diseases?
In most parts of the world now, the burden of chronic diseases and disability has outstripped the burden of infectious diseases and maternal/child health–related problems. We need to think about what kinds of models will best deliver care for diseases that will stretch over decades for people. The technical expertise to deal with some of those problems is not strong in many countries, and the health systems in these countries have been designed to deliver acute, episodic care.
For us, the starting point will be cardiovascular disease and diabetes. There is so much low-hanging fruit, such as lowering high blood pressure, which could reduce the risk of heart attacks and strokes. The second issue is global mental health. As people live longer, disability, not just death, is a growing proportion of the burden of disease. One of the leading causes of disability is mental health problems. In many countries where we work, there are very few psychiatrists and extremely limited access to mental health care.
Highlights
ER ward medical doctor, Khao-I-Dang, Khmer refugee camp in Thailand
Co-founder, International Medicine Clinic at Harborview Medical Center
Founding chief, National Institutes of Health's STD research branch
Former director, CDC Division of STD/HIV Prevention
Founding member and Board Chair, Consortium of Universities for Global Health
What other priorities do you have for the department?
We're in the process of developing a Doctorate in Global Health (DrGH) Leadership and Practice. The primary focus of the DrGH program would be to provide advanced training to prepare individuals to be leaders in evidence-based global health practice, rather than to be primarily researchers or academicians. We envision this program would be structured in a highly innovative way. It would probably consist of an initial 12 months of classes, followed by a series of extended, mentored, project-focused rotations –- perhaps nine months or so -- with a range of domestic and international agencies and organizations involved in global health, such as ministries of health, international non-government organizations such as PATH or CARE or World Vision, and bilateral or multilateral organizations such as USAID, CDC, the WHO, UNAIDs or the World Bank. This would give students an opportunity to understand how things really work.
Second, we have an incredible opportunity to turn to Asia and develop robust partnerships with selected institutions. We now work with seven of the leading Chinese medical universities with support from the China Medical Board. We've also started to build collaborations in Bangladesh and Nepal.
A third priority is to nurture and expand our superb existing programs. One area I want to highlight is reproductive health and family planning. Particularly with the Gates Foundation's emphasis on re-energizing family planning, there's an important opportunity to work in this area, which is fundamental to improving global health both directly and via impacts on the environment.
Finally, we have historic strengths in infectious diseases. We should leverage these to address emerging and reemerging infectious diseases and their broader impacts on health.  For example, you'd have to be sitting under a rock not to have recognized what happened in the wake of the Ebola epidemic. It is essential that we develop improved early detection and response capacity for sustainable improvements in the health systems overall.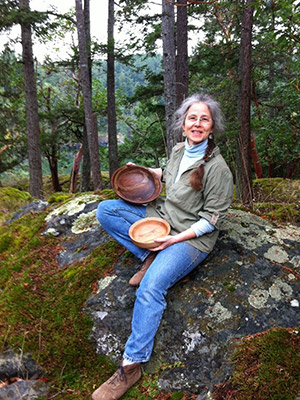 Wasserheit on Orcas Island, showcasing wood bowls she made during a wood-turning class
How do Department of Global Health goals align with the School's strategic plan?
I think our goals align beautifully. If you look at the six SPH emerging challenges, two of the six are two of our top priorities: global environmental change and human health, and implementation science. Two more of the six (health policy and health systems and social determinants of health) are embedded in absolutely everything we do. Most of our folks work on helping –- through research and/or capacity building –- our colleagues within low-and middle-income countries assess and then improve their health systems. Certainly social determinants of health are quite salient in global health. Poverty, lack of education, gender, social status are huge. It's what we live and breathe.
What is your greatest challenge?
Deciding what not to do. We have such a wealth of opportunities in research, training and education, and on the service side. We have remarkable faculty and outstanding students. Many people approach us about new opportunities, and many of them are fabulous.
How were you inspired by your mother?
My mother (Elizabeth Roberts) was probably 50 years ahead of her time. She was amazing. She actually wanted to be a writer and did write, but didn't earn her living as a writer. Instead, she was one of the first women in podiatry. She ended up chairing two departments in the College of Podiatry in New York. One was special anatomy. Every so often I would open the freezer at home and there would be feet and legs in there (laughs). The other department was practice administration.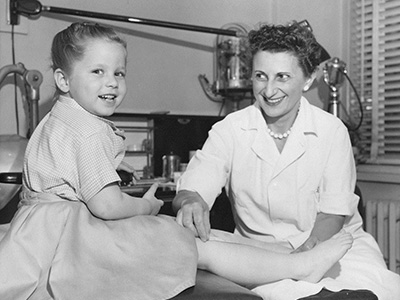 With her mother, one of the first women in podiatry
She wrote a book for the lay public, "On your Feet," for Rodale Press that was incredibly well-received. I loved watching her interact with patients, who in general worshipped her. As one of the few female podiatrists, she could understand that on the one hand women needed to be stylish, and on the other hand they need to actually walk, despite the way most shoes are made.
Tell us about the cadaver.
It was for my 13th birthday. This guy must have been in his late 20s with a gunshot wound to his head. We'd go up to the morgue on weekends and my mother would guide me in dissecting this cadaver. I would come home and stink of formaldehyde. My friends would ask me to go out, but they always asked if I had been to the morgue because they hated the smell and didn't want to go with me if I had just been "cutting up with my mother." So it was a bit of a crimp in my social life.
Do you have time for any personal hobbies?
Not nearly enough. I love to do pottery. A couple of years ago my husband (Jeffrey Harris) gave me a gift of wood-turning lessons –- making bowls or vases on a lathe. I've discovered it's actually not that hard. I really love wood. I used to do cabinet making, but that takes much more space and time. When I can, I love downhill skiing.
(By Jeff Hodson)
Originally Published:  July 2015