Devastating floods had just hit Mozambique when Kenny Sherr first arrived in March 2000. Rivers had overflown from heavy rains, killing hundreds and destroying cattle and crops.
"A woman gave birth in a tree," says Sherr, now an associate professor of global health at the University of Washington School of Public Health. "Rosita, the baby, made international news. Everybody knew about it."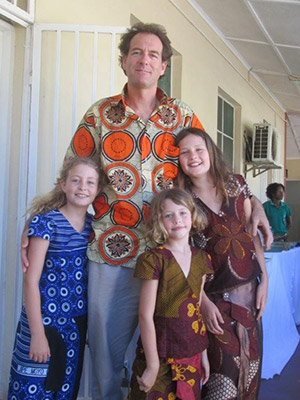 Kenny and daughters in Mozambique
Sherr had just earned his MPH in health services from the School and was taking over as Mozambique country director for Health Alliance International, a non-governmental organization affiliated with the University.
"I was struck by the massive influx of resources for the emergency response in an environment where there were really constrained resources," Sherr says. "With all the money flooding in, there was no real way to spend it effectively. It didn't go to the government, where it could have been used for building up a sustainable health system."
What Sherr observed in Mozambique – combined with his SPH training – would profoundly shape his thinking about an emerging field that is now a key part of the UW's 25-year population health initiative and the School's strategic plan: implementation science.
"Implementation science is applying a systematic framework of research methods to improve the delivery of evidence-based interventions at scale in order to lead to maximal population-level health," Sherr says.
Many people call it bridging the "know-do" gap.
"It's all about taking the science that we know works (from successful clinical trials, for instance) and putting it into effect at a national level – or at a regional level as part of a national plan – in low- and middle-income countries," Sherr says. "Right now, it takes about 17 years to scale up the typical public health or clinical intervention."
Kenny Sherr explains implementation science  
Sherr heads the world's first PhD program in implementation science, based in the Department of Global Health, where students can also study for a doctorate in global health metrics. Twenty-one students are now enrolled in the two tracks.
The program will enroll its fifth cohort this fall, and has graduated one student – Peter Cherutich, now a deputy director in Kenya's Ministry of Health. Two new faculty members have been recruited as part of the School's Strategic Hire in Implementation Science: Melissa Mugambi and Bryan Weiner.
This spring, UW President Ana Mari Cauce recognized implementation science as one of five key drivers to improve population health globally.
"That's fantastic," Sherr says. "Implementation science is a field that can bring everybody together. All across campus you'll find schools and departments that have novel methodologies that can help understand and improve complex systems."
He cited efforts in industrial and systems engineering, business, public affairs, anthropology, education, social work, nursing and more. Sherr focuses on systems engineering. "They have a very different way of looking at processes and process improvement," he says.
HIGHLIGHTS
Adjunct assoc. professor, Epidemiology
Adjunct assoc. professor, Industrial Systems & Engineering
Winner, Young Investigator Award, International AIDS Society
PhD Epidemiology, University of Washington, 2009
MPH Health Services, University of Washington, 2000
BA Anthropology, Sociology, Kenyon College, 1995
The reasons for the 17-year gap between scientific discovery and implementation, Sherr says, include lack of funding, complex regulatory and policy processes, human resource challenges, medicine and supply distribution systems, and weak management systems.
"More money would help, but you still need to do a better job with the resources you have, which is where implementation science can hopefully be a force to try and lead to better programming," he says.
Sherr's current research features a new six-year project funded by the Doris Duke Charitable Foundation to strengthen health systems and reduce neonatal deaths in Mozambique. The project aims to improve the quality and scale of service delivery, and build capacity and training.
Sherr, the son of a gastroenterologist, says he "fell into health" after college when he went to work in Bolivia with Save the Children on an immunization program. "Public health is really the science of social justice, as Richard Horton has said, and it is an ability to use data in a way to inform actions and address inequities," he says. "That launched me more into global health, and allowed me to express my desire to strengthen public sector health systems as a route to improving population health."
With family in front of a statue of Samora Machel, Mozambique's first president
After Bolivia, he worked in Uganda before joining the SPH international health program, where he pursued an MPH. The program was based in the Department of Health Services at the time. Sherr was a Teaching Assistant for Stephen Gloyd, who later linked him to Health Alliance International.
After four years running HAI in Mozambique, Sherr returned to the UW to study for his PhD in epidemiology. After two years of course work, he was back in Mozambique doing his dissertation work as well as serving as country director for HAI.
Under his current Career Development Grant, or K award, Sherr spends five months a year overseas. So for three of those months he brings his family: three daughters, Lola, Shelter and Georgia, and wife Sarah Gimbel, an assistant professor of Family and Child Nursing in the School of Nursing, co-director of the Center for Global Health Nursing, and adjunct in global health. Gimbel researches HIV prevention and immunization, as well as how to use mHealth technologies, including tablets and smartphone applications, as training mediums and to support provider decision-making.
They stay in Beira, a port city of about half a million people. "It's a great place," Sherr says. "On the coast. Surrounded by water on two sides, a lot of beach and the people are laid back."
Related: Check out this video for prospective students of the PhD program. It features five students discussing their definitions of implementation science and metrics, and their research and experiences in the program.
(By Jeff Hodson)
Originally published: July 2016