Promoting health at the workplace makes sense – after all, more than half of the adults in the U.S. go to a job every day. Peggy Hannon, new director of the School's Health Promotion Research Center, helps companies adopt wellness programs that improve employee health while also reaching out to those workers most likely to suffer from health inequities. Stress, she says, is another hot workplace topic.
Why is the workplace so important for health promotion?
It's a great place for an intervention because of the reach. If you care about adults and health promotion, this is where more than half of them are in the United States every day. It's a space in which we have to spend most of our waking time. The capacity for addressing health disparities is also appealing. How do we help employers specifically reach these workers?
What kind of research does HPRC conduct?
We look at the workplace as a whole. A lot of the practices we focus on are more about changing workplace policies and environments as they relate to topics such as tobacco, physical activity, nutrition and cancer-screening. For example, we encourage employers to subsidize gym memberships for their employees. We also encourage them to allow for physical activity breaks.
We focus on changing workplace policies and environments for tobacco, physical activity, nutrition and cancer-screening
We started with large workplaces (of more than 1,000 employees), and were successful partnering with the American Cancer Society, which has a lot of cachet in the workplace world. Through that partnership, we helped those workplaces adopt and implement evidence-based practices that have reached more than 1.7 million people. Participating institutions include Alaska Air Group, United Parcel Service, the University of Washington, and Puget Sound Energy. Over the past several years, we've also done lots of work with small employers, particularly in lower-wage industries.
How do you address health disparities through workplace wellness programs?
It's challenging. Employers don't want to single out employees with lower socioeconomic status by offering them something different. So we've said, let's try to add some toolkits that not only would reach those employees but also would help everybody. Those include maximizing engagement and general tips on things such as making healthy eating easier while at work. Another issue – are the materials available in the languages employees are speaking?
Highlights
Associate Professor, Health Services
PhD, MA, Social Psychology, MPH, University of North Carolina at Chapel Hill
BA, Psychology, University of Puget Sound
Post-doctoral fellowship, UW SPH and Fred Hutch Biobehavioral Cancer Prevention and Control Training Program
From our focus groups, it turns out most employees know what to do when it comes to eating healthy, for example. The gap wasn't around knowledge. They just felt it was really challenging. There's always junk food in the break room. They know salad is healthy, but it's time-consuming to prepare. Time and stress came up a lot.
Historically, we've not dealt with stress in our interventions. We're trying to figure out how to add that to our portfolio of things that have evidence that we offer to employers. It's a really hot issue. It's its own burden and a barrier to health.
What can workplaces do to lower stress?
There are two approaches. One is to give individual employees tools to help them manage and cope with stress better. There are organizational approaches as well – such as issues around giving people some control or notice around their schedules. A lot of low-wage workers don't know their schedule for the following week. If you've got young kids, this makes life feel almost impossible.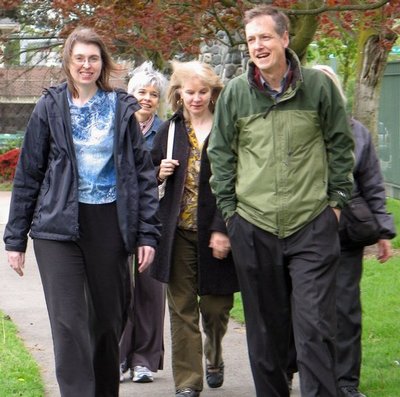 Hannon and colleagues promote walking
Employers can also create better policies around breaks. Can there be a period every two hours where you let people go and encourage them to take a quick walk?
Employers want to address stress, and think their employees will see that as helpful. In other areas, some employers don't feel it's their place to tell people what they should eat or that they shouldn't smoke. We've picked up some concerns that employers feel this is a little too 'Big Brother.' A lot of our work ends up being about helping employers find nuance between having a supportive environment versus saying, "You'll never have a doughnut again."
Tell us about your work in cancer screening.
I originally came to HPRC in 2004 to do work with the WA State Department of Health around their cancer projects. We've continued to have a strong relationship, helping them assess the current state of colorectal cancer screening and help their partnership group and task forces identify evidence-based approaches to improvement.
Many people think colorectal cancer screening is not a super-fun topic, and yet you really have an amazing opportunity to prevent cancer with screening. It's effective in saving lives. It's complicated, because there are a lot of ways to screen, from fecal home testing kits to colonoscopies. More patients will probably do it if they can choose the test they want. The best test is the test you choose.
We've made huge gains in the proportion of the population that's been screened over the last decade, but it's still underused. And there are still really big disparities in who gets colorectal cancer screening.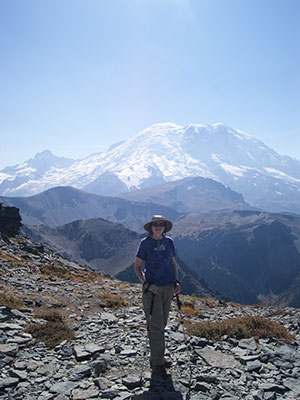 She and her husband enjoy hiking
Do you have any new directions for the center?
Over the past couple of years, we have started working more with the healthcare systems in a couple of our projects. We are working with Y-USA to find ways to help physical therapists refer elderly patients to EnhanceFitness, a group-based physical activity program that has many benefits. We're also working with a couple of federally qualified health centers to help them evaluate their efforts to improve colorectal cancer screening for their patients. We are always trying to be responsive to our partners' needs, and that takes us in new directions.
Do you have time for any fun outside of work?
You have to. I read a lot and love classical literature. I have a few friends who make sure I don't always have my mind buried in 1830. I read The Goldfinch last year.
I sing with the Rainier Chorale, based in Kent, and for a while sang with Seattle Peace Chorus. We performed Carmina Burana at Benaroya Hall last April. My husband and I really enjoy hiking.
The Health Promotion Research Center is one of 26 centers funded by the Centers for Disease Control and Prevention.
(By Jeff Hodson)
Originally published: February 2016