Thomas Fleming was bound for the priesthood, but changed his career pathway when he was inspired by a gifted math teacher and then by a fellow math student who later became his wife. Fleming went on to become a leading biostatistician and a prominent advocate for rigorous evaluation of the benefits and risks of new drugs, biological products and devices. He had a key leadership role in a landmark clinical trial on the prevention of HIV transmission – a study that garnered Science magazine's "Breakthrough of the Year" in 2011.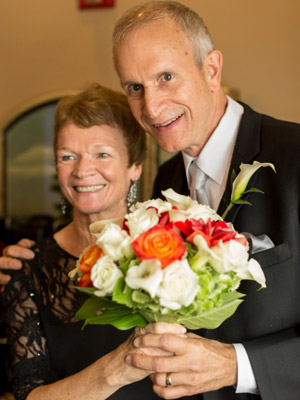 Tom and Joli Fleming at their daughter's wedding in July
You planned to be a priest, but ended up a scientist. What happened?
I was in a Catholic seminary for several years. When I attended St. Thomas College in St. Paul (now the University of St. Thomas), I had a remarkable teacher who became a role model for me, both as a scientist and as an educator. I took 7 courses from him. Partway through my time at St. Thomas, I decided to pursue science. There's just too much I wanted to do in the scientific world.
And then you chose statistics?
I thought statistics would be critical to health care research. That led me into probability theory and then statistics and then survival analysis – the methods we use to understand "time to events" such as death or infection in a group of people we're trying to protect from infection.
After earning your PhD, you surprised everybody.
I initially passed up academia. I knew I needed more experience in the "art" of my profession, so I went to work at the Mayo Clinic. In our field of biostatistics, it's not just the theory or methods we learn in graduate school, it's also the art of being able to effectively apply those theories to real-world problems. This also involves developing common sense that's not that common.
Highlights
PhD, MA, Statistics, University of Maryland, 1976 and 1974
BA, Mathematics, University of St. Thomas, 1972
Outstanding Teaching Award, UW School of Public Health
Member, Institute of Medicine
Former Chair, UW Biostatistics
Former Director, Statistical Center for HIV/AIDS Prevention Trial Network at the Fred Hutchinson Cancer Research Center
FDA's Special Citation Award for Extraordinary Contribution to the Agency
How do you explain the significance of biostatistics for the layperson?
Biostatistics essentially involves bringing quantitative methods and proper scientific discipline to collaborative research efforts in biology, medicine and public health. Biostatisticians are well suited to enhancing objectivity of the scientific process, critical to obtaining unbiased assessments. Often, biostatisticians serve as the conscience of the research team.
What did you do at the Mayo Clinic?
Most of my collaborative activities in medical research at Mayo were in the Comprehensive Cancer Center and the area of liver transplantation. I was involved in the design, conduct, and analysis of trials. One area of focus was the utility of biomarkers to help us understand whether treatments are effective, yet in many cases we need caution about the reliability of evidence. For example, it's not enough to show your drug shrinks a tumor. What matters isn't the tumor. It's the patient. Providing a toxic agent that shrinks a tumor but doesn't meaningfully help the patient feel better, function better, or live longer isn't really to their benefit.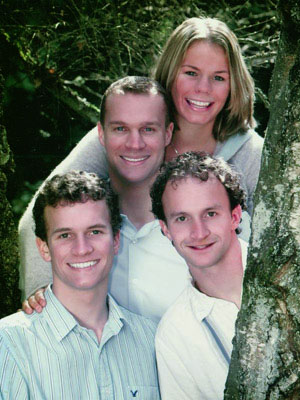 Proud of Matt, Ryan, Erin and Andrew
Tell us about the method named after you.
The O'Brien-Fleming method, used when analyzing data frequently during a trial, helps guide the assessment about whether or not interim data are adequately convincing to terminate the study. It's the most widely used method in such settings. We developed it in 1979, and it meaningfully influenced how we monitor trials.
Another keen interest of mine is data monitoring committees, which provide independent ethical and scientific oversight to safeguard the interest of patients and to enhance the integrity of trials. [Fleming has chaired or served on monitoring committees for more than 100 clinical trials and has served on a large number of Food and Drug Administration Advisory Committees.]
What drew you to the UW?
I loved the science and my colleagues at Mayo. What I didn't have were two things: the ability to teach the next generation of biostatistics students and an institution that provided boundless opportunities for collaboration on a national and international scale. Ross Prentice called me in 1983 and said UW had an open position. I already knew UW was the mecca for survival analysis. What I hadn't known was that members of the Department not only were gifted scientists, but also genuinely cared about each other. It was a wonderfully collegial atmosphere. UW is a fabulous place. It's rich across the board, and in our field it's number one.
Which research/papers are you most proud of?
The first publication I might hand to you is a 2010 Annals of Internal Medicine article on hype versus substance. It discusses the significant random high bias scientists face when exploring efficacy and safety data in an effort to 'establish' a treatment is safe and effective. If you're looking across an array of results and your goal is to find something good, you will, even if it's a placebo.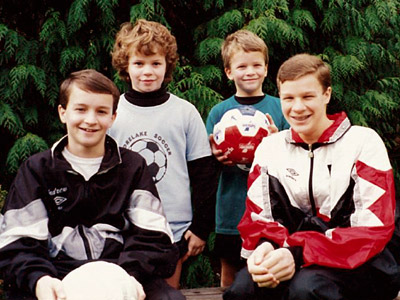 Tom coached while his kids played soccer, a 'major shared activity' to spend more time with each other
I have had an opportunity to be involved in many other significant research papers/trials, including understanding the effects of Laetrile. Seventy thousand cancer patients were going to Mexico each year for the drug and all they were getting was cyanide toxicity.
We also conducted a trial that refuted claims that showed megadoses of vitamin C would improve survival in pre-terminal cancer patients, and other trials that were the first to establish surgical adjuvant regimens that improve survival.
What about your HIV research?
We published a study in the New England Journal of Medicine in 2011 evaluating methods to reduce transmission of HIV. It showed that antiretroviral therapy, when taken by someone infected with HIV, almost completely eliminated transmission – a stunning result. It has changed our ability to treat HIV infection in developing countries and has led to the concept of treatment for prevention. [Science magazine called it the 2011 scientific "Breakthrough of the Year."]
Now we're evaluating interventions that can be given to the uninfected partner to further reduce their risks for infection, including long-acting injectables that you take once every three months. This has the potential of being another major advance.
Tell us about your teaching.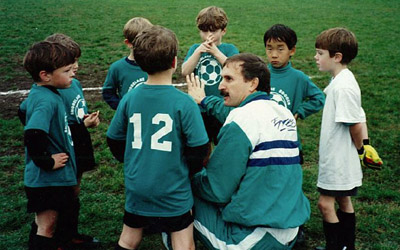 'I've coached 60 soccer teams over the years,' says Fleming, pictured here in 1992
Another passion of mine is teaching the next generation. My favorite class is Biostat 524, Design of Medical Studies. To provide a real world experience of the synergy of collaborative research, students are placed in groups that are heterogeneous by discipline and spend the quarter collaborating on developing a protocol for a clinical trial, written in the form of a grant proposal.
What do you like to do outside of work?
Family is number one. My wife, Joli, and I are proud of our four children who reflect many of her wonderful qualities. Ryan, our oldest, punted for the Huskies in the Rose Bowl in 2001 and now is a financial planner; Andrew is an adolescent psychologist and avid Ultimate Frisbee player; Erin is a gifted teacher with a passion for languages and the Spanish and American Sign cultures; our youngest, Matt, is a Tacoma firefighter who received a Medal of Valor in 2012. All are married and they already have given us six amazing grandchildren.
(By Jeff Hodson)
Originally published: 2016