Wendy Barrington is passionate about promoting health equity and credits her social justice orientation to her African-American and white background. Her experience living in different places -- from suburban Oregon and California to rural New Mexico -- has also spurred her interest in neighborhoods and health. "In all these places, I've seen differences perpetuated by systematic injustices," Barrington says. "That has shaped my desire for wanting to do something to rectify that."
What kind of research do you do?

Wendy Barrington uses this painting of an apple tree to explain health disparities
I've evaluated associations between built environment attributes and stress as well as obesogenic behaviors. I also examine racial differences in the risk of obesity-related cancer outcomes. Epidemiology as a science does a lot of work to describe associations. I also want to test interventions that seek to ultimately reduce cancer disparities through modifying determinants of obesity – especially environments.
Why neighborhood environments?
Everyone operates in context. Understanding the influence of that context is important for increasing the effectiveness of interventions. Especially given that context is socially patterned and likely plays a role in health disparities.
How have you defined neighborhood in your research?
The built environment is typically described by characteristics of walkability such as how streets are organized, the presence of sidewalks, as well as the density of residential units, parks, recreation centers, and types of food outlets. Characteristics of the social environment include property value and other measures of neighborhood socioeconomic status (SES) as well as social capital and control.
For my dissertation research, I looked at worksite neighborhoods – the places around where people work. We defined the worksite neighborhood as the area that could be reached by about a 10-minute walk in any direction. This, of course, assumed that this was a feasible amount of time one would walk given the time constraints of a typical lunch break.
What were your findings?
Highlights
Assistant Professor, Psychosocial and Community Health, School of Nursing
Adjunct Assistant Professor, Epidemiology
PhD, Epidemiology, UW
MPH, Epidemiology, University of New Mexico
BS, Earth Systems, Stanford
People who worked in areas with higher neighborhood SES tended to walk more. People who worked in more densely populated areas tended to walk more as well as eat more fruits and vegetables. A pattern we saw in Seattle is that more densely populated areas had greater access to both fast-food and healthy food outlets in addition to greater walkability. The issue at hand for many worksites was being located in underserved areas.
Tell us about the links you've found between race and cancer.
We found that for African-American men, obesity was positively associated with risk for low- and high-grade prostate cancer. For non-Hispanic white men, obesity was actually inversely related to low-grade prostate cancer. Non-Hispanic white men also had a lower obesity-related risk of high-grade prostate cancer compared to African-American men. We don't understand why that is, but it suggests that obesity is especially important for providers to consider as a preventive strategy among African-American men.
Barrington worked with community leaders at Mount Zion Baptist Church on a breast-cancer and screening awareness program
I'm also in the middle of some analyses of data for the Women's Health Initiative at the Fred Hutch, where I'm an affiliate investigator. I'm looking to see whether obesity is an explanatory factor in racial disparities in breast cancer mortality.
I've also contributed to a commentary highlighting an unanticipated trend in breast cancer incidence for African-American women. Findings from WHI and other studies suggested that supplementation of estrogen plus progestin was associated with an increased risk of breast cancer. After this information came out, rates of breast cancer among non-Hispanic white women declined in years 2000-2004, but not among African-American women.
Rates actually appeared to increase in years 2000-2012. Given that differences in the effect of hormone supplementation or changes in mammography screening rates during this period are unlikely explanations, differences in the diffusion and application of hormone therapy findings among African-American women may be a contributing factor.
Are these findings related to the #BlackLivesMatter movement?
Absolutely. African-American men and women are experiencing poorer outcomes. In the findings I described, poorer prostate and breast cancer outcomes. Many factors are involved in these disparities, but most are grounded in social differences which are rooted in bias in various systems - whether it's health care, education, or criminal justice. The issue is equity.
First, we need to rectify inequities in outcomes through focused resource allocation and revamping or creating new practices and policies so that all are treated equally. This directly supports the #BlackLivesMatter movement. Only after all populations experience equity in outcomes should we shift our focus to #AllLivesMatter. To do the latter prematurely would simply perpetuate inequities.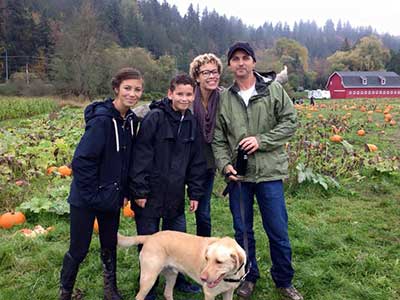 With daughter Marlowe, son Jagger, husband Marc and pup at a pumpkin patch in Woodinville
What motivated you to pursue public health?
I've always had a social-justice orientation to my work. I see that partly stemming from my own background straddling two cultures. I'm bi-racial and it's important to me to understand that I have ties to two different communities that experience very different health outcomes. I want to use my position – my privilege – to be able to facilitate efforts to reduce those disparities.
I think my motivation has evolved over time, perhaps from living in different places – northern and southern California, suburban Portland, New Mexico, even Stanford University, where there are stark disparities between Palo Alto and East Palo Alto. In all these places, I've seen differences perpetuated by systematic injustices. That has shaped my desire for wanting to do something to rectify that.
Tell us about your community outreach.
I am partnering with Mount Zion Baptist Church, a primarily African-American faith community in Seattle, as part of a small grant funded by the Health Disparities Research Center at the Hutch (Director Beti Thompson). We worked on a breast cancer and screening awareness program. Breast cancer survivors served as community role models by providing testimonies and stories about their experiences while also advocating for early detection – clinical breast exams and mammography.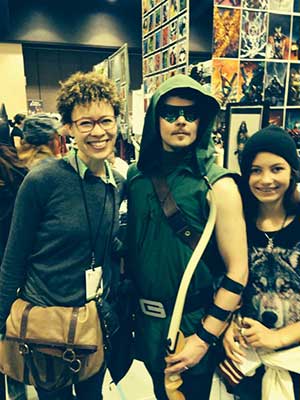 With "Arrow" and daughter Marlowe at the Emerald City Comicon
We organized a training for lay health advisors and role models over the summer which culminated in two programs that coincided with Breast Cancer Awareness Month in October of last year. More than 150 women took part.
What are you working on now?
I have a revise and resubmit with Emily White on intake of fast food items and sugar-sweetened drinks and mortality outcomes. We found significant associations, even adjusting for numerous confounders, between intakes of both fast-food items and sugar-sweetened drinks and total mortality -- about a 16 and 25 percent increased risk, respectively.
What do you teach?
I co-instruct NSG 552: Social Determinants of Health and Health Equity in the School of Nursing. It's a core course for students in the DNP program and required for MN students in the community health track. As part of this class, we volunteered with Everyone Counts, which surveys individuals who are experiencing homelessness. We had 30 to 35 nurses volunteering this year and it is always a "bubble bursting" experience.
What are your hobbies?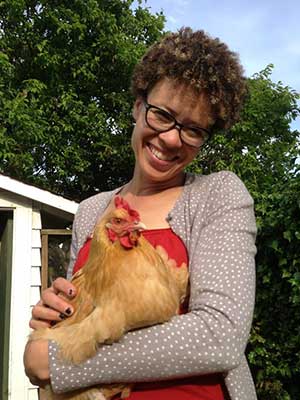 With Buffy, the "pirate chicken"
I have two older kids and have a lot of fun hanging out with them. They love Marvel almost as much as I do—although my son is also a huge DC fan. I try to take time for yoga and I love cooking for my family and friends. We take part in neighborhood Friday night dinners and have done some community canning. My husband is great at making kimchi.
I keep chickens (six in total) and have started dressage riding with my daughter, who has ridden since she was three. I also love comic books and have been collecting X-Men titles since I was 18. My image has even been used for an action comic book character -- albeit the title is pretty obscure. I'll leave that a mystery.
(By Jeff Hodson)
Originally published: March 2016