Before she was a food systems and sustainability expert, Yona Sipos was a video jockey for MTV Canada.
Between interviews with celebrities like Avril Lavigne and music videos for OutKast's Hey Ya!, Sipos would have a few minutes to talk to teenagers about science. A master's student in agroforestry with a background in plant biology, Sipos discussed everything from how to plant an urban garden to cool science experiments you can do at home, such as using a fish tank to demonstrate climate change.
Recruited through her work with a science literacy nonprofit, Sipos was driven to find compelling ways and non-traditional spaces to educate people about the social impact of science and the environment. It's with this same spirit that she now teaches undergraduates at the University of Washington School of Public Health.
"I wanted to, and still do, cultivate curiosity about cool and important scientific themes that impact our daily lives, and that we can impact as well," says Sipos, an assistant teaching professor in the Department of Environmental and Occupational Health Sciences and core faculty member in the Nutritional Sciences Program.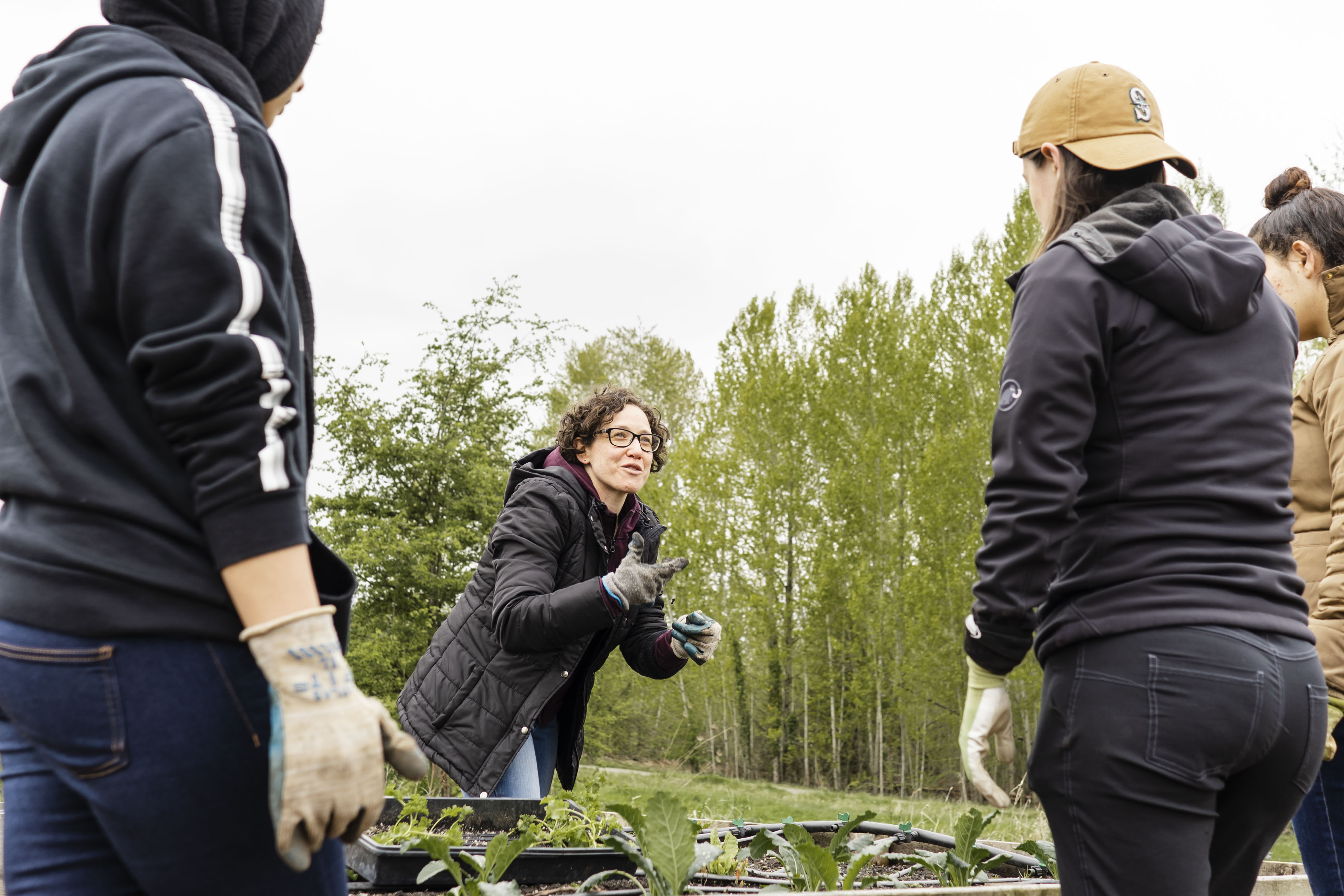 Sipos is helping to launch the new Food Systems, Nutrition and Health major and she is teaching the popular Food Systems: Harvest to Health class, a requirement for students in the undergraduate program, originally developed by Associate Professor Jennifer Otten. Students examine food from the time it is seeded and harvested from farms and fields to when it arrives on plates, in bellies and beyond (to cover food waste and resource recovery).
The course takes the 80 students out of lecture halls to learn about the food system through hands-on activities. Weekly labs are held at the UW Farm, a 1.5-acre urban farm and educational facility, and with UW Recycling, which manages the University's recycling, composting and waste reduction efforts. Students are planting kale, potatoes and beets; harvesting pea shoots, spinach and turnips; and sorting food waste. (See photos.)
Working outdoors is not new to Sipos, who grew up in gardens and on poultry and tree-fruit farms in Hamilton, Ontario, a town halfway between Toronto and Niagara Falls along the west bank of Lake Ontario. Her grandparents were farmers who emigrated as refugees from Hungary in 1956.
Out-of-the-box thinking to solve complex problems
It is through these real-life experiences that students can find meaning in the factors and processes that shape and constrain the food system, according to Sipos. Students also learn to identify patterns and trends. Insights they gain represent fundamental concepts of an approach called systems thinking.
Systems thinking examines the linkages and interactions between the pieces that comprise the whole of the system. It is particularly useful in understanding and addressing complex problems such as those seen in public health and global health.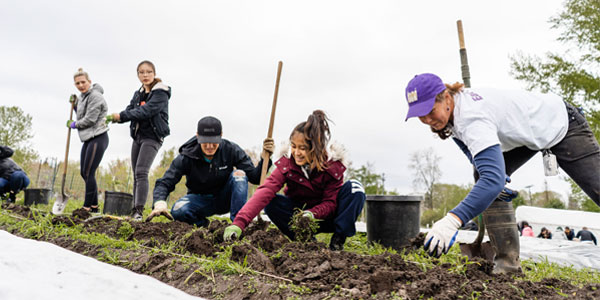 "Many of the problems we deal with are complex and to grapple with them, academia has had a tradition of working on component parts, which results in working in silos and within disciplines," Sipos said. "Systems thinking gets students to become problem solvers, to work across disciplines, and to realize the power of human and ecological connections."
Additionally, Sipos uses an out-of-the-box approach she co-developed as a PhD student at the University of British Columbia (UBC) that engages psychomotor, social and emotional learning. By pushing the boundaries of learning, she believes students can identify their passions and make positive contributions to the world. Sipos received her PhD in Integrated Studies in Land and Food Systems in 2013. She also received her master's from UBC in 2005.
Of course, researchers at the UW School of Public Health and elsewhere tackle complex problems on a daily basis, Sipos explained. But the ability of future food systems and public health leaders to perform effective systems thinking is important to the world's future.
The problem with the food system
Like many of the systems that supply communities with products and services and producers with jobs, security and income, the food system is complex. And it has far-reaching impacts on communities and the environment.
Following Otten's course outline, Sipos uses chickens, apples, corn, beef and strawberries as case studies. Focusing on a different food each week, students examine the many facets of the modern food supply – from production and processing to distribution, marketing and retail, as well as food waste and recovery. The course also explores social, cultural, political, economic, equity and ecological drivers with an eye toward the outcome. Drivers can include the politics of farming, price of land and availability of young farmers.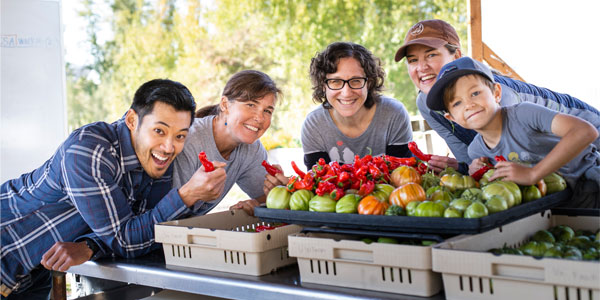 "There's a fallacy that we can simply outsource our food system," Sipos says. "We go grocery shopping and the shelves are stocked. We order meal kits and go to restaurants. We create food waste and somebody else deals with it. But a lot of the time, having other people manage these problems has not been productive."
Students in the major will explore barriers to productivity and sustainability and propose solutions. Sipos is currently developing the capstone, a culminating experience that will pair teams of students with community partners across the local and regional food system.
Elevating voices that are often left out of the story
Prior to joining the UW, Sipos was program director for the Chesapeake Foodshed Network, a regional initiative across six states and Washington, D.C., to develop learning opportunities and work groups across the food system. A key aspect of this work was to advance an emphasis on community ownership and equity. (Watch a video about this work.)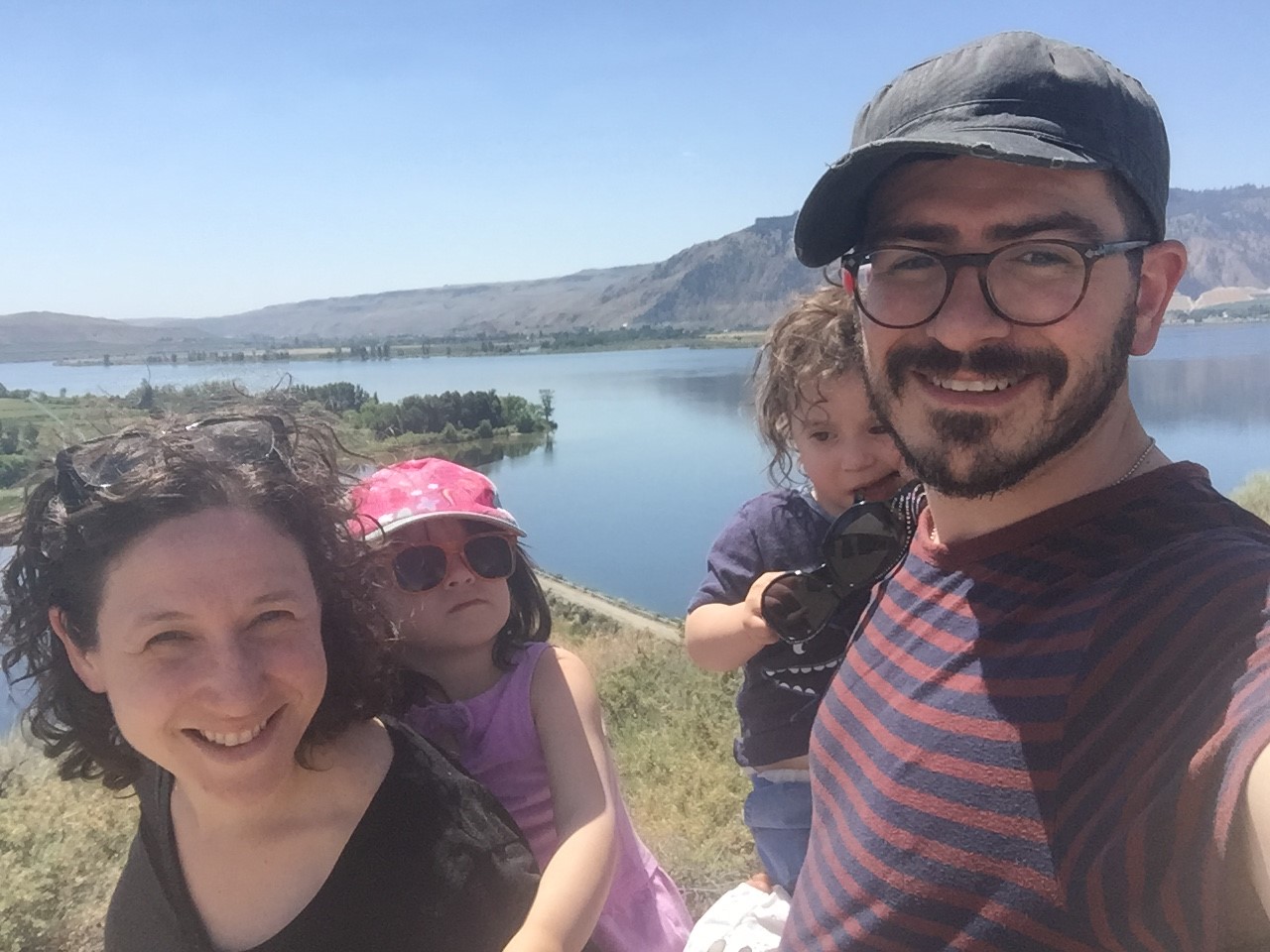 She has also contributed to food system sustainability reports in Canada and the United States and served on the Vancouver Food Policy Council and the Prince George's County Food Equity Council. Sipos uses these experiences to help frame food systems issues, and to encourage students to ask questions in new and different ways that prioritize equity.
"Approaching food system issues from an equity lens is about elevating those voices that are often left out of the story, but who are central to how the story plays out," Sipos says. For example, in Harvest to Health, Sipos discusses how America's industrial agricultural system is in large part built on slavery and she emphasizes the role of farm workers in the food supply chain. Students also reflect on how food relates to the health of individuals, populations, ecosystems and the economy.
"Taking this expansive view of health helps to reinforce the need to analyze the impact on marginalized and underserved individuals and communities," Sipos says.
Canvas bags help, but the problem is much bigger
There are ways that people can help make the food system more sustainable, according to Sipos. We can use canvas bags when we go grocery shopping. We can shop at farmer's markets. We can bring our own mug to Starbucks and carry a straw that's reusable.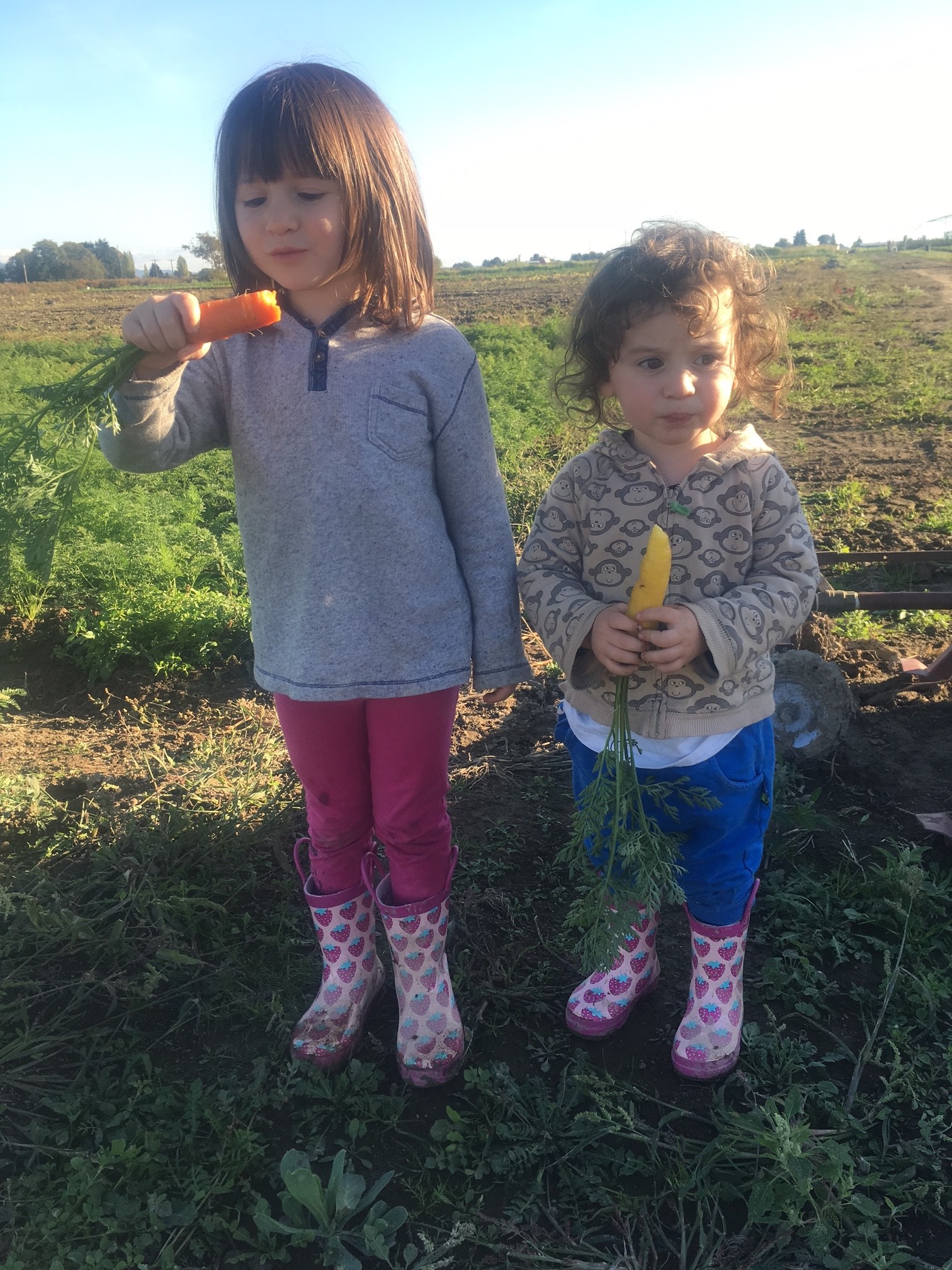 "All of this is important and I encourage it entirely, but the food system is what it is because of much bigger systems than those that operate at the individual level," she says.
Sipos and her family are on a quest to reduce their plastic consumption. Her partner, Ben, a labor economist, is making yogurt and experimenting with cottage cheese. The family does a lot of fermenting and pickling. They also make their own hummus and dehydrate beets for jerky.
"We're just trying to take more control of what we're bringing into the home and putting into our bodies," says Sipos, who finds fun ways to include her daughter, Netta, 6, and son, Zuri, 3.
To those who want to deal with food system issues as they happen, Sipos says: Why wait? "Part of public health is anticipating what the next crisis could be, and we are already seeing crises playing out across the food system. This is why embedding the Food Systems major within public health is very powerful."