Scott Davis has been chairman of the Department of Epidemiology since 2000, overseeing 78 regular faculty and up to 180 graduate students. He splits his time between the school and the Fred Hutchinson Cancer Research Center.
Q: What first drew you to public health?
Davis: I was trying to get into medical school in the late '60s and early '70s, but couldn't. I was working at Los Alamos National Laboratory as a chemical technician. To make a long story short, I managed to get a job at the University of Rochester. I was looking around for something health-related and, lo and behold, I ran into the community health and preventive medicine department. That sort of changed my whole orientation, from patients and clinical work to populations and working with lots of people. My wife decided to go to graduate school at the UW, and I got into the PhD program here in epidemiology. It just sort of fell into place.
How did you end up studying nuclear radiation?
I got a call out of the blue one afternoon in the early '80s from Donovan Thompson, the late chair of Biostatistics, who was in Hiroshima with a friend and colleague of mine, Ken Kopecky. They had just received a grant to work with the Radiation Effects Research Foundation on atomic bomb survivors. Donovan asked if I would like to come to Japan for two years. (He laughs.) I about fell off my chair. I knew basically nothing about radiation.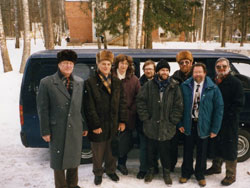 "Everything you've ever heard about a Russian winter is probably true," says Davis, in blue jacket.
And you found you had a passion for it?
I didn't realize how interested I was until I got back from Japan. The Department of Energy released some 19,000 pages of previously classified documents. They revealed for the first time that Hanford had sizeable releases of radioactive material in the late '40s and early '50s, and that thousands of people were likely exposed, some to high levels of radioactive iodine. A couple of colleagues here wanted to do a follow-up study. That's when I really felt the passion.
What did you find out in Hanford?
(Thumps two large volumes of the Hanford report on his desk.) After 13 years and more than $25 million, we held a press conference to announce the main findings in draft format and said we found the results very reassuring. We found that there was absolutely no relationship between any kind of thyroid disease and radiation dose to the thyroid from Hanford. These results were not what many people expected. The fact that we used the word 'reassuring' made people very angry. They said it was a sign that we didn't care about them, didn't care about their complaints. We were stunned.
You've been studying the effects of the Chernobyl disaster. How many times have you been to Russia/the former Soviet Union?
I lost track after 80. But we're down to about one trip a year now.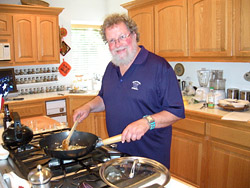 "I love to cook – I have a lot of fun with curries and anything on the grill," Davis says.
Was it challenging?
They were exceedingly difficult working conditions. We started from absolute scratch. There was nothing. No infrastructure at all. No money. Nobody trained in epidemiology or biostatistics. The institutions were poor and run down. After several years, we were just about ready to launch the first study and the Soviet Union collapsed. We were back at square one.
Were you ever scared to enter a high-radiation zone?
We've been in the evacuation zone at Chernobyl several times, but it's probably not more exposure to radiation than what you get on the plane coming over. On one trip we went to the reactor site itself, but it was for a very short period of time. In the big scheme of things, people living in Colorado might have much higher doses [from more cosmic radiation due to higher altitudes as well as soils rich in uranium].
What did you learn from Chernobyl?
We confirmed a large and significant increase of thyroid cancer. And we further developed a methodology for individual dose estimation that is called "Dose Reconstruction." First, we constructed a model to describe the distribution of radiation: where it was dispersed, how it settled on the ground, how it got into the food chain and how much. Then we put the epidemiology with that by interviewing people to find out where they were, when, and what they were eating and drinking. You put the two together and you get an individualized estimate of the dose. It's a very complex process, but a powerful tool. If there is another accident or terrorist event of some kind, these results could actually be quite helpful.
Are you doing any research on Fukushima?
Not yet. A few months ago I was invited to attend a two-day symposium in Fukushima. I don't know what will come out of that. On a population basis, the doses were relatively low and very spread out. But undoubtedly there are individuals who were more highly exposed.
What about the tsunami debris now washing up on our shores – is it contaminated?
I can't believe it's here that quickly. It wouldn't pose any great danger to people in terms of radiation exposure.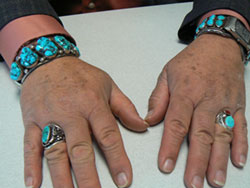 Davis, a native of New Mexico, collects Navajo jewelry. "You've got to go to pawn shops to find this quality and style."
What about your other work in the field of non-ionizing radiation, including our circadian rhythms?
We've done studies of electromagnetic fields and cancer. And we've expanded that to look at light exposure at night and anything else that might affect melatonin. We found in a study here in Seattle that there was a very substantial increase in risk of breast cancer in women who had worked the night shift. We've been pursuing that for several years, looking at melatonin, reproductive hormones, breast cancer in women and prostate cancer in men, and factors that disrupt circadian rhythms.
So we shouldn't be working nights?
If this is really true, it could affect huge numbers of people, both male and female. That story is still to be filled out, but all of us involved see it as a potentially really big public health issue. Denmark has already taken the stance that any woman who worked the night shift and developed breast cancer is eligible for compensation by the government. That's astounded people. That shows the potential for impact.
How do you juggle your role as a chair and as a teacher/researcher?
It's incredibly important for me to be down there in the trenches with the faculty. You need to be an example if you can by getting grants, doing the work, being involved. I've also tried to be as opposite a micromanager as you can get. Assemble the best possible people and resources and then get out of the way and let them go.
What's your advice for students who want to make an impact?
You have to have a passion for what you're studying. You're always being criticized, sometimes not fairly. You can't let it get to you. Stick with it. Build a tough skin. And you'll do fine.
You are known for your collection of Navajo jewelry. How did you get into that?
I was born and raised in Los Alamos. My adviser in Rochester had strong ties to the Southwest and spent every summer doing research on the Navajo reservation. Not surprisingly, I chose him, and my master's thesis was a study of the utilization of health-care services on the reservation. I lived there for several months, collecting data and jewelry. I have a lot of this stuff. It's all pretty old. You've got to go to pawn shops to find this quality and style.
What else do you like to do when you're not at work?
I love to cook. I have a lot of fun with curries and anything on the grill. I do a fair amount of gardening and love to grow roses. Basically, my life has been work, yard work and the kids. I have two daughters – one is just finishing her master's degree at the UW and is an elementary school teacher in the Issaquah School District. The other is a junior at Oregon State. We used to lease a boat before they got into high school. I'd love to get back to that.
(By Jeff Hodson)
Originally Published: July 2012