Bridget Ury named 2023 Outstanding Undergraduate Student by DEOHS and the UW School of Public Health
Dinner-table conversations in Bridget Ury's family encouraged her interests in a wide range of subjects.
"Apathy does not describe my family," Ury said. "My family always put a big emphasis on being curious and learning as much as I could so I could apply it to make a difference."
Next month, Ury will graduate with both a BS in Environmental Health and a BA in Political Science from the University of Washington. She is also being recognized as the 2023 Outstanding Undergraduate Student by both the UW Department of Environmental & Occupational Health Sciences (DEOHS) and the School of Public Health.
"Bridget stands out as one of the most thoughtful, resourceful, capable and talented undergraduate students I have encountered at UW," said Marissa Baker, DEOHS assistant professor who served as Ury's mentor.
"She is inquisitive and curious, committed to equity and environmental justice and is sure to be a future public health leader."
Switching from Biology to Environmental Health
Ury originally thought she would pursue a biology degree alongside her political science degree when she arrived at the UW. But a conversation with an adviser in the Biology Department led her to consider environmental and occupational health, which turned out to be "a perfect fit," she said.
"I love DEOHS—even though no one knows how to say it," Ury laughed.
"One of the biggest strengths of the department is the quality of the professors and the people who work here," she said. "They are experts in their fields."
Ury said she didn't realize how broad environmental health is until she switched into the department. From climate change and health to food and water safety to industrial hygiene, she said, "I never would have thought that all of that would be in environmental health."
Hands-on job experience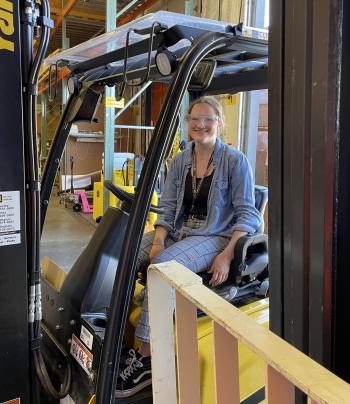 Last summer, Ury completed a 400-hour internship with an aerospace company in Everett, working as an environmental health and safety intern. The internship is required for Environmental Health majors to prepare for careers in environmental public health science practice or research.
She worked with her manager to lead safety trainings and improve access to safety information. She also helped develop an electricity conservation program and a company recycling program for plastics used in manufacturing. She even got certified to operate a forklift.
"I got to see how what I learned in class can be applied directly in the workplace," Ury said. "It's all important and practical."
Making the most of volunteer and research opportunities
True to form, Ury has pursued an array of volunteer activities since she arrived at UW.
She serves as the undergraduate representative to the DEOHS curriculum committee and is part of the Dean's Advisory Council for the School of Public Health. She is active in the Student Environmental Health Association and leads the Sustainability Curriculum Coalition, a student group working with the University on sustainability initiatives.
Ury is also a volunteer with the Juvenile Diabetes Research Foundation, supporting newly diagnosed patients and offering her insights as a person living with type 1 diabetes. She has lobbied Congress for diabetes research funding.
This spring, she is also working on a research project led by Baker examining whether illicit drug use on buses and trains may affect air quality in the vehicles and pose an occupational health risk to transit operators. Her job is to help set up air sampling pumps and collect the data, which are delivered to a specialized lab to test for controlled substances.
A department where everyone knows your name
The department's relatively small size and personal touch have been big pluses for Ury. Compared to other departments, Ury said the level of student support is high in DEOHS.
"Professors and advisers know your name. You have connections to people, and the level of community is strong," she said.
"The Environmental Health major taught me the hands-on skills I could apply tomorrow at a job while also teaching me critical-thinking skills," she said. "It sets you up really well for whatever path you want to choose."