Victoria Breckwich Vásquez's lifelong endeavor has been to understand the challenges faced by her mother, a single mom from Peru who became a nurse in Los Angeles. Today, Vásquez channels her passions into improving the health of Latino communities, including a little-studied group of forestry workers in southern Oregon who are vulnerable to on-the-job injuries.
Tell us about your work with Latino forestry workers.
'We can't do our work without them,' Vásquez says of promotoras, or community health workers
Forestry work is one of the most dangerous types of work, especially for Latinos. Many of them are undocumented and don't speak English. These workers face hazards on a daily basis such as extreme weather, rough terrain, chainsaw accidents, falling trees and branches, poison oak, forest fires, contaminated drinking water, bears, and dangerous insects. These are likely related to a fair amount of injuries (slips, falls, cuts, and wounds from falling objects), and we need to understand better the nature of those injuries and how they're caused.
As part of a community-based participatory research partnership with the Northwest Forest Worker Center (OR) and UC Berkeley's Labor Occupational Health Program, we're going to develop five short digital stories for educational and training purposes. There would be two kinds of stories – one would show what happens when a person is injured and the other how someone tried to change the nature of their work to avoid injury.
We're training three promotoras, Spanish-speaking community health workers, to do interviews with workers in Medford, OR, and to understand the nature of a good story that could hook a viewer. They'll take those stories – along with other resources already developed by the Northwest Forest Worker Center – out into the communities.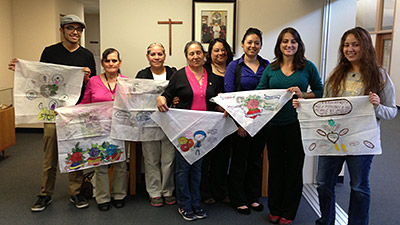 With participants in a project to prevent sexual harassment in the agricultural workplace
Where do these workers live and what kind of work do they do?
Many live in small hotels in the greater Medford area, and they're bused or vanned throughout southern Oregon to do manual labor in forested areas, including planting trees, pest control, thinning and cutting brush and small trees, and are hired to fight fires. The work is seasonal, and spread over a large geographic area, including public and private lands. Most workers spend long periods of time working away from home.
They are not in the timber industry, but work for contractors hired by the government. Although estimates are likely low due to the hidden nature of their presence, there were an estimated 3,672 forest workers in Oregon in 2010.
They are highly distrustful of people coming around and talking to them. Promotoras are the only way – the ONLY way -- we would able to be successful.
What other projects are you doing for PNASH?
I'm involved in a childhood asthma intervention project with Catherine Karr in the Yakima Valley, mostly from an evaluation standpoint to make sure the project goes as planned, meets its objective, and has a good relationship with partners. We have three years to enroll 75 people. They have to live within half a mile of what's called a confined animal-feeding operation. We're looking for highly vulnerable children whose asthma is not controlled. That will help inform the general population about what sorts of interventions are needed and whether an indoor air filter can do the job or not.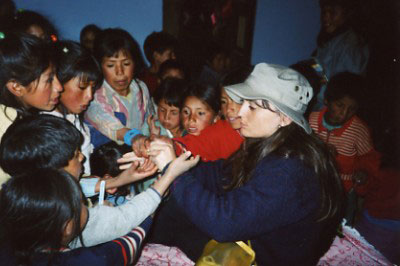 Supporting projects in her mother's Peruvian village
The other part of my work is with El Proyecto Bienestar, or the Well Being Project. It has a community advisory aboard which I co-chair and it helps oversee all of our projects in Yakima. They give us feedback and tell us generally what to focus on. They influenced my selection of sexual harassment in the agricultural workplace as a research area a couple of years ago.
The original sexual harassment project ended, but now we have a grant from the Equitable Food Initiative through Oxfam America to create a video on the topic that would be another educational tool to use on farm worksites and in agricultural communities. It would be the first of its kind in the nation.
You also find time to teach at UW Bothell?
It's a lot of work, but I enjoy it. I'm an assistant professor in the School of Nursing and Health Studies. One of my classes, Community Engagement in Health Research and Interventions, puts together everything I've learned over the years about how to work with people and communities. I love that class. I'm now developing a class on Latino culture and health.
What did you do as an administrator for the City of Berkeley (CA) public health division?
I worked on place-based health work. We focused on small areas within a city, about seven square blocks, where we could really get a feel for what was going on there health-wise. We developed partnerships with transportation, housing, employment services, and police. We know that health inequities and many poor health outcomes concentrate themselves in certain areas. At UW Bothell, we're exploring the possibility of doing some of this in Snohomish County, in certain parts of Everett.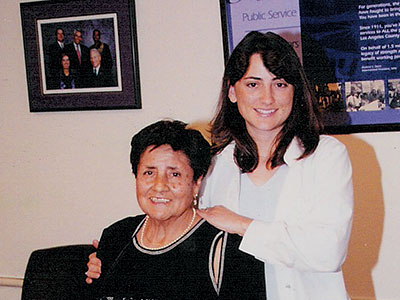 'Her resilience motivates my work and my life,' Vásquez says of her mother (left)
What drives your passion for this kind of work?
My own cultural upbringing – with a single mom, Latina head-of-household from Peru. I think it's been my lifelong endeavor to understand her and the challenges she faced all her life, and the way she was able to overcome those challenges. Her resilience motivates my work and my life. My mom was a nurse, and I grew up in the health department, getting lost in the filing cabinets and stuck in the dumbwaiter (laughs). My dad, a Swedish-Croatian, was around for some of my childhood, and I have some of his qualities, too, like being strategic.
Tell us about your humanitarian work in Peru.
My mother passed in 2005, and I set up a non-profit, SALUD Peru, to honor her and expand the years of charitable work we had done in her village in the northern Andes. I realized that charity keeps people where they are. You really need to partner with people to see change happen. We put in potable water systems, a new school, and started a weaving workshop.
I had to fold the nonprofit when I moved up here as it took too much time to go back and forth several times a year. I still support a dairy project, and our family recently supported graduating high school students to visit Cusco because so few of the children there are able to experience their own proud Inca history. I was in Peru in April to visit everyone, and took a fun side trip to the Galapagos Islands.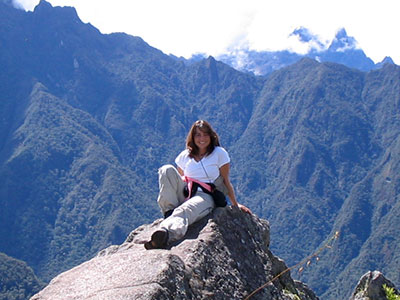 At ease in the Andes
Do you like to travel?
In 2011, I took a trip around the world by myself for five months. Those are really important things to do, especially as a woman. It's pretty challenging to travel on your own. But you get over a lot of fear, and needing to have people around you. You can be happy on your own.
What brought you to the UW?
I escaped California to be up here with family. All of my Peruvian relatives had moved up. One of my cousins was in the Navy and bought property in Bremerton 25 years ago. He starting bringing people up from L.A., saying, "There's space here." I loved the sunshine down there, but I started to feel like I wanted to spend more time with my family. My cousins recently opened a Peruvian restaurant in Gig Harbor so we are now more a part of the larger Latino community here in the Puget Sound.
What do you do in your spare time?
I love to bike. I bike here. I bike to Bothell. I bike as much as I can. My partner Ben and I do a lot of hiking in the mountains with my two dogs. My uncle lives with me. He's a great guy, an artist and writer, 76 years old and walks 8-10 miles a day. For my birthday last month, he drew my eye on a big card. When he showed it to the dogs, they were mesmerized.
(By Jeff Hodson)
Originally Published: September 2015