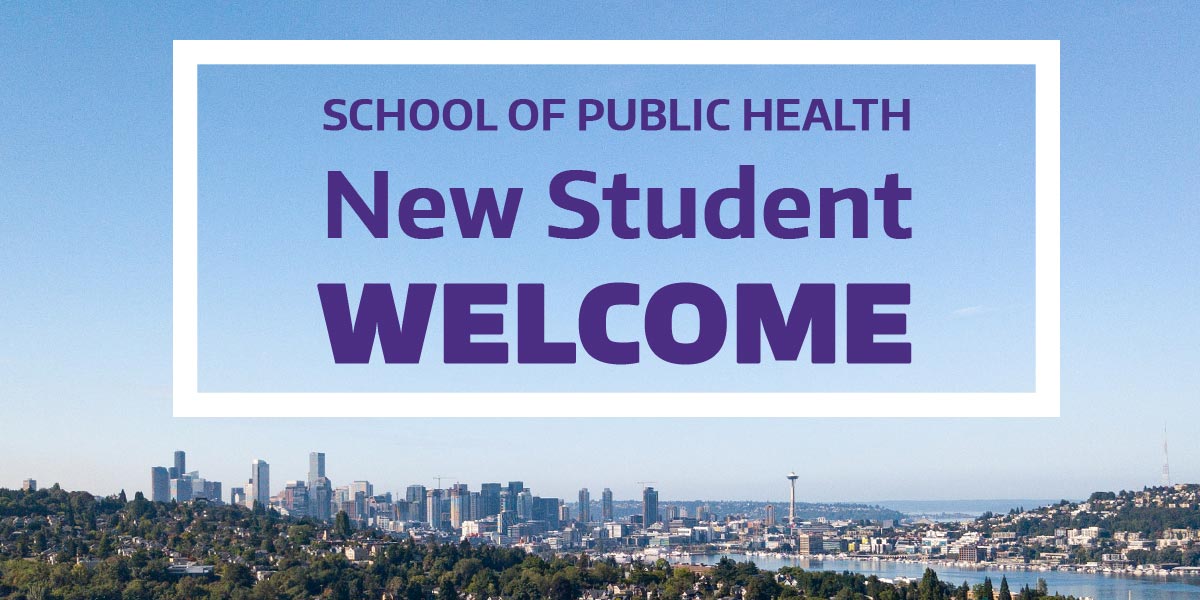 The 2021 School of Public Health Welcome can't wait to see you this fall!
2021 New Student Welcome Overview
The 2021 New Student Welcome will occur on Monday, September 20, 2021 and will include sessions for both undergraduate and graduate students. For our incoming Masters of Public Health (MPH) students, our MPH Core Orientation will take place on Tuesday, September 21, 2021. We are planning for a full return to campus to welcome you to your Husky Home!
Our Mission
The University of Washington's School of Public Health Welcome is dedicated to showcasing its core tenants of education, research, and service for all incoming students. The Welcome serves as an opportunity to bond its students to the institution's values, a cohort of classmates they will share the next few years with, and introduce core environments on-campus and beyond that can lead to a positive UW experience.
Schedule At-A-Glance
More information about the 2021 UWSPH New Student Welcome is forthcoming. If you have any questions, please contact sphsas@uw.edu for more information.
View the student welcome on YouTube
Monday, September 20, 2021
Time
Session
Location
Presenter(s)
10:00AM - 10:05AM
Welcome & Introduction
Introducing the day's agenda and reviewing the SPH Canvas Page
Intellectual House
Jalen Smith
10:05AM - 10:10AM
Dean's Welcome
A welcome from our School of Public Health Dean, Hilary Godwin
Intellectual House
Hilary Godwin
10:10AM - 10:30AM
OD Meet & Greet with Students
An opportunity to meet SPH Dean's Office leadership and staff.
Intellectual House
Jalen Smith
10:35AM - 11:05AM
EDI Introduction
Learn about the School of Public Health's commitment to equity, diversity, and inclusion.
Intellectual House
Victoria Gardner & rukie hartman
11:10AM - 12:10PM
Academic Integrity in the SPH
Learn about the SPH's academic policies & resources
Intellectual House
Juanita Ricks, Carey Farquhar
12:10PM - 1:20PM
Break / Lunch!
Food will be provided. Feel free to explore campus!
Wherever!
N/A
1:20PM - 2:20PM
Evaluations: The Life Cycle of the Student Feedback Process
Learn about the ways student feedback is used to make positive and important change in the SPH
Intellectual House
Juanita Ricks, Carey Farquhar
2:30PM - 3:30PM
Making Your Academic Wellness Toolkit
Mental health is just as important as physical health. Learn how to stay well during this academic year.
Intellectual House
Juanita Ricks & Jen Nguyen
3:40PM - 4:40PM
Undergraduate Panel / Conversation
New undergraduate SPH student? Great! This session has current undergraduate SPH students in various stages of their journey. Learn from them and ask questions!
Intellectual House
Jalen Smith
Tuesday, September 21, 2021
Time
Session
Location
Presenter(s)
10:00AM - 11:30AM
MPH Core Orientation
Get to know the MPH Core curriculum, meet instructors, and learn more about the MPH programs.
Intellectual House

Jalen Smith, India Ornelas, Olivia van Brunt

11:30AM - 12:00PM
Transition/Setup/Mingle
For those in the MPH Core Orientation, relax! Go stretch. For newcomers, the next session starts at noon.
Intellectual House
N/A
12:00PM - 1:00PM
Graduate Panel / Conversation
This panel conversation with current masters and doctoral students will give you a bit of insight into what resources and supports have been used to be successful, helpful tips, and more.
Intellectual House
Jalen Smith
1:00PM - 1:15PM
Break
Wherever!
N/A
1:15PM - 2:00PM
Walking Tour to Hans Rosling Building to end on Rooftop Deck
Get a chance to view the University of Washington campus and to see our new Hans Rosling building as we take a tour from the Intellectual House
Hans Rosling Center 
Jalen Smith
2:30PM - 3:30PM
UAW 4121 (Academic Student Employees Only)
The Union of Academic Student Employees and Postdocs will prepare students to know their rights as student employees on campus. Only Academic Student Employees need to attend the session.
Hans Rosling Center (Rm 155)
N/A 
Graduate Student Preparatory Workshops: Info & Dates
All Math Skills and R Workshops will be delivered via Zoom. For any questions about the Graduate Student Preparatory Workshops, please contact Olivia van Brunt at ovbrunt@uw.edu.
MATH SKILLS
Therese Mar from the Office of Minority Affairs and Diversity Instructional Center will be facilitating two sessions to help provide students with an understanding of basic math concepts and methods of statistical inference. We strongly recommend that you take this Graduate Biostatistics Basic Quantitative Skills Pre-Test to help identify areas in which you might benefit from a refresher.
Date
Time
Session
Sept. 7
3-5pm

Math Skills 1

Review of math skills
Order of Operations
Fractions, Percentages and Decimals
Algebra and cross tabulations

Sept. 8
3-5pm

Math Skills 2

Slopes and linear equations
Graphs of basic functions
Logarithms and Exponents
Word problems
R WORKSHOP
The Center for Social Science Computation and Research (CSSCR) will host two sessions on R statistical computation software. R is required for EPI, BIOSTAT, and PHI courses. There are two opportunities to join each session, please make sure to register for both sessions 1 and 2. Prior to session 1, you will be sent a video on how to download R to your computer.
| Date | Time | Session |
| --- | --- | --- |
| Sept. 13 | 3-5pm | R Workshop Session 1A |
| Sept. 14 | 5-7pm | R Workshop Session 1B |
| Sept. 15 | 3-5pm | R Workshop Session 2A |
| Sept. 16 | 5-7pm | R Workshop Session 2B |