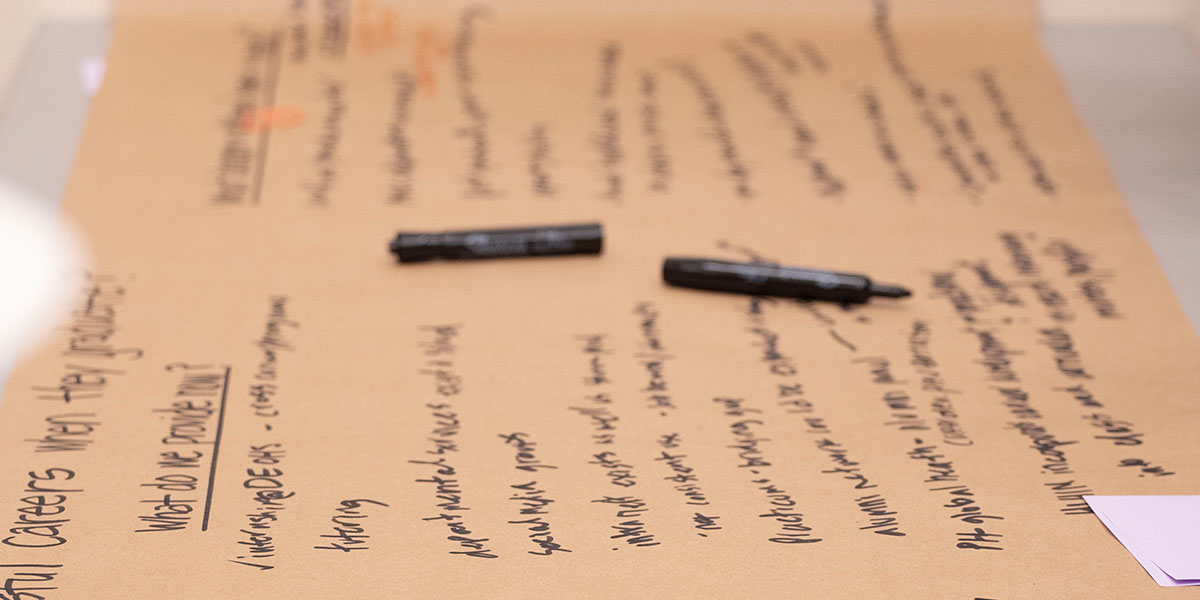 New challenges in public health continue to emerge. As a flagship school of public health, it's vital to have an up-to-date plan that reflects current realities in the field and that maps to the School's great strengths. A good strategic plan sets priorities, helps determine how to allocate resources, and reminds us of who we are, what we're good at, and what we're trying to achieve. The School's current strategic plan, launched in 2012, is set to expire in 2020. To help us craft a new strategic plan, we've hired Pyramid Communications to serve as our partner and have appointed a Steering Committee of stakeholders from across the School and community. Pyramid has been reaching out for ideas and feedback, and plans to have a final plan in place by the end of the school year. Check back here for regular updates and documents!
Dean Hilary Godwin has appointed the following members to the SPH Strategic Planning Committee:
Jared Baeten (Chair), vice dean for strategy, faculty affairs and new initiatives
Ali Rowhani-Rahbar, associate professor, epidemiology
Alison Fohner, assistant professor, epidemiology
Amanda Phipps, associate chair and associate professor, epidemiology
Charles Stevens, SPH dean's advisory board
Emily Allen, program manager, START
Esi Nkyekyer, clinical assistant professor, environmental & occupational health sciences
Helena Archer, MPH student, epidemiology
India Ornelas, associate professor, health services
Jennifer Nelson, senior investigator and director of biostatistics, Kaiser Permanente Washington Health Research Institute
Jo Gallaugher, director of business and management strategy, health services
Jon Wakefield, professor, biostatistics
Joseph Babigumira, associate professor, global health
Linda Ko, associate professor, health services
Liz Kirk, associate director, nutritional sciences program and senior lecturer, epidemiology 
Jacqueline Valdez Gonzalez, student, public health-global health major
Mike Yost, chair and professor, environmental & occupational health sciences
Nancy Simcox, director, continuing education programs, environmental & occupational health sciences
Noah Simon, associate professor, biostatistics
Paj Nandi, community relations and health equity director, Washington State Department of Health
Patricia (Patty) Pavlinac, assistant professor, global health
Patty Hayes, director, Public Health – Seattle & King County
Sarah Cave, director, MHA program and senior lecturer, health services
Sarah McCarthy, PeaceHealth
Tim Thornton, associate professor, biostatistics
James Pfeiffer (ex-officio), chair, faculty council and professor of global health
Jeff Hodson (ex-officio) director of SPH communications
Juanita Ricks (ex-officio), director of program operations, student and academic services Megan Ingram (ex-officio), assistant dean for advancement
Victoria Gardner (ex-officio), assistant dean for equity, diversity and inclusion
Uli Haller (ex-officio), assistant dean for finance and administration
Kimberly Hay, manager of strategic initiatives, office of the dean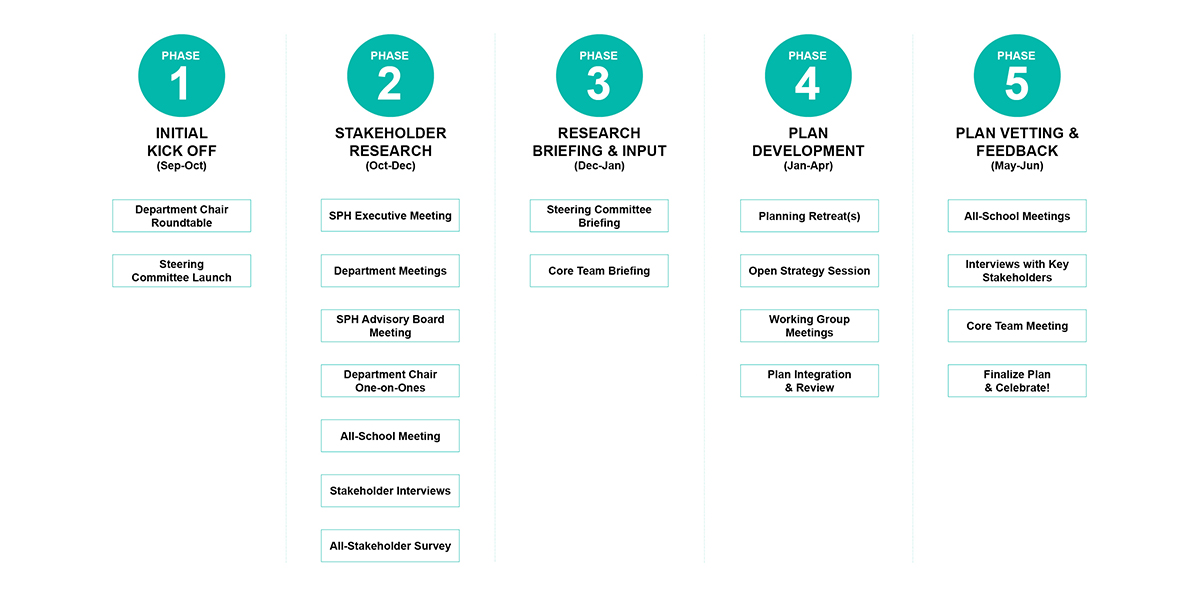 Phase 1: Initial Kick Off
(Sep-Oct)
Department Chair Roundtable
Steering Committee Lunch
Phase 2: Stakeholder Research
(Oct-Dec)
SPH Executive Meeting
Department Meetings
SPH Advisory Board Meetings
Department Chair One-on-Ones
All-School Meeting
Stakeholder Interviews
All-Stakeholder Survey
Phase 3: Research Briefing & Input
(Dec-Jan)
Steering Committee Briefing
Core Team Briefing
Phase 4: Plan Development
(Jan-Apr)
Planning Retreat(s)
Open Strategy Session
Working Group Meetings
Plan Integration & Review
Phase 5: Plan Vetting & Feedback
(May-Jun)
All-School Meetings
Interviews with Key Stakeholders
Core Team Meeting
Finalize Plan & Celebrate
Pyramid Communications is a Seattle-based strategy and communications firm that has worked with institutions of higher education and in public health throughout its 26-year history. Their clients have included the UW College of the Environment, the Burke Museum, the Pacific Science Center and the Robert Wood Johnson Foundation. The project team working with the UW School of Public Health includes Anne Tillery, senior strategic advisor, Denise Rhiner, project lead, Josh Daniel, strategic advisor, and Carly McCarthy, project manager.