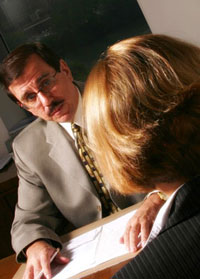 WHAT IS AN INTERVIEW?
An interview is a chance for you and the interviewer to assess how well you might fit with the organization and the position.
HOW SHOULD I PREPARE FOR AN INTERVIEW?
Preparation is the key to a good interview — you need to do your research. Before showing up for the interview, make sure to be familiar with the company or organization. Go beyond just poking around a website- find out about the organization's mission, read annual reports and brochures, search for media articles, and learn about the community you will be working in.
JOB INTERVIEW TIPS:
Practice makes perfect — prepare for your interview by practicing answering questions.
Never show up late for an interview.
Dress appropriately for the workplace and position you are seeking.
Come prepared. Bring extra copies of your resume, a list of references, a pen, paper, and any forms you are required to fill out (such as an application).
Be honest.
Always follow-up the interview with a thank you note.
WHAT WILL I BE ASKED AT THE INTERVIEW?
Interviewers may ask several types of questions to get an idea about your strengths and fit with the organization.