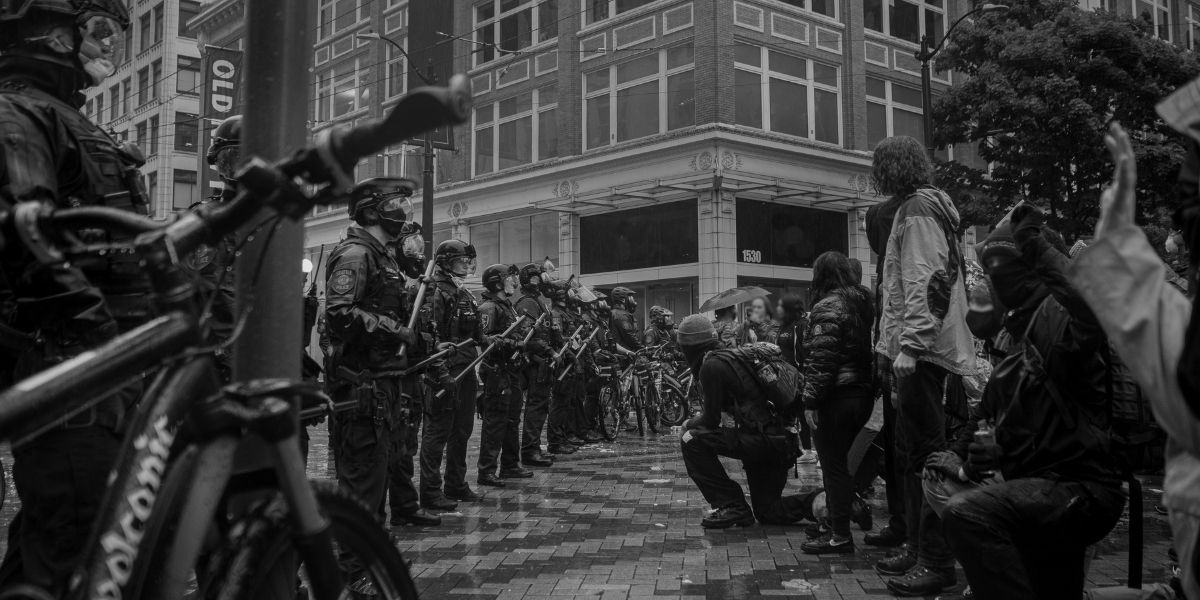 Experts in public health, medicine, law, sociology and toxicology use evidence of police brutality during Seattle-area 2020 anti-racism protests to set research agenda
Months after the demonstrations that followed the murder of George Floyd by now-former Minneapolis police officer Derek Chauvin last May, the full scope of the country's police response is becoming clearer. In Seattle, evidence from more than 100 individuals injured by police during the Black Lives Matter protests in the summer of 2020 paint the problem of policing as a social determinant of health.
Protesters, journalists, medics and community residents reported an array of injuries as a result of their interactions with police, including hearing loss, concussive or traumatic brain injuries, burns, contusions, breathing difficulties and other respiratory issues, interruptions to reproductive cycles and mental distress. These health effects were further compounded by the physical and mental health implications of the ongoing COVID-19 pandemic.
A panel of experts will discuss this evidence as well as the public health research and interventions needed to prevent violent policing – during protests and beyond – in a virtual event on May 13, at 4 pm Pacific. The event is hosted by the UW School of Public Health, the UW School of Law and the UW Libraries Open Scholarship Commons. 
The event will be moderated by Angélica Cházaro, an assistant professor of law at the UW School of Law. Panelists are:
Sirry Alang, an associate professor of sociology and health, medicine and society at Lehigh University, and author of 2017 paper in the American Journal of Public Health on police brutality and Black health.
Robert Chang, a professor of law and executive director of the Fred T. Korematsu Center for Law and Equality at Seattle University School of Law who was part of a legal team that represented plaintiffs in Black Lives Matter v. Seattle
Asha Hassan, an associate research manager at Planned Parenthood North Central States and PhD student at the University of Minnesota School of Public Health who is studying the reproductive health effects of tear gas.
Amy Hagopian, a professor at the UW School of Public Health who has taken part in Seattle protests.
Juniper L. Simonis, a Portland toxicologist who has reported on police weaponry.
"Police brutality against anti-racism protesters over the last year is just one manifestation of the larger, systemic issue of police violence," said Hagopian, a professor in the Departments of Health Services and Global Health, who noted that police violence is an entrenched feature of America's criminal justice and law enforcement systems. "A long trail of evidence confirms this institutionalized racism threatens public health at all levels. Public health academics and practitioners can contribute by engaging in community-centered research and prevention."
Hagopian, an authority on the effects of war on health, and a team of volunteers from the UW School of Public Health collated the local evidence from legal affidavits to form a collective narrative of police-inflicted health harms from late May to September 2020. The evidence, including photos and personal accounts from Black Lives Matter plaintiffs who were at the protests, were submitted to courts by three separate legal teams—the American Civil Liberties Union (ACLU), in conjunction with Seattle University's Fred T. Korematsu Center for Law and Equality, the legal firm of Stritmatter, Kessler, Koehler & Moore, and the Cedar Law Group. You can explore their project on this interactive website.
Research Assistant Amy Ozinsky, an undergraduate student at George Washington University was part of the project team. "In going through the more than 100 affidavits and accompanying photographic evidence, my role was to bring forward the protester's stories for the website," Ozinsky said. "While some of the material is quite disturbing, together the experiences of the individual protesters form a compelling narrative of how police violence harms individual and community health at all levels."
Seth Kramer, an MPH alum of the UW School of Public Health and current graduate student in the UW School of Social Work, helped shape the project. As a participant in the protests and plaintiff in one of the lawsuits, he served as the liaison to the attorneys.
"We worked to ensure the narratives of the movement and the stories of the plaintiffs were centered in this website," Kramer said, "as we wanted to ensure informed consent and protect the privacy of the protesters while demonstrating the importance of discussing police violence under a public health framework."
Nouela Johnson was the website designer. "I have never designed a website like this before," she said. "I wanted users to be able to search on the type of weapons used, and to have the events laid out on a timeline. The collection of reports tells a deeply troubling account of police violence against those protesting police violence."
RESOURCES
To learn more about how police violence and institutionalized racism undermines public health, explore these local and national resources: