Blog Featured Image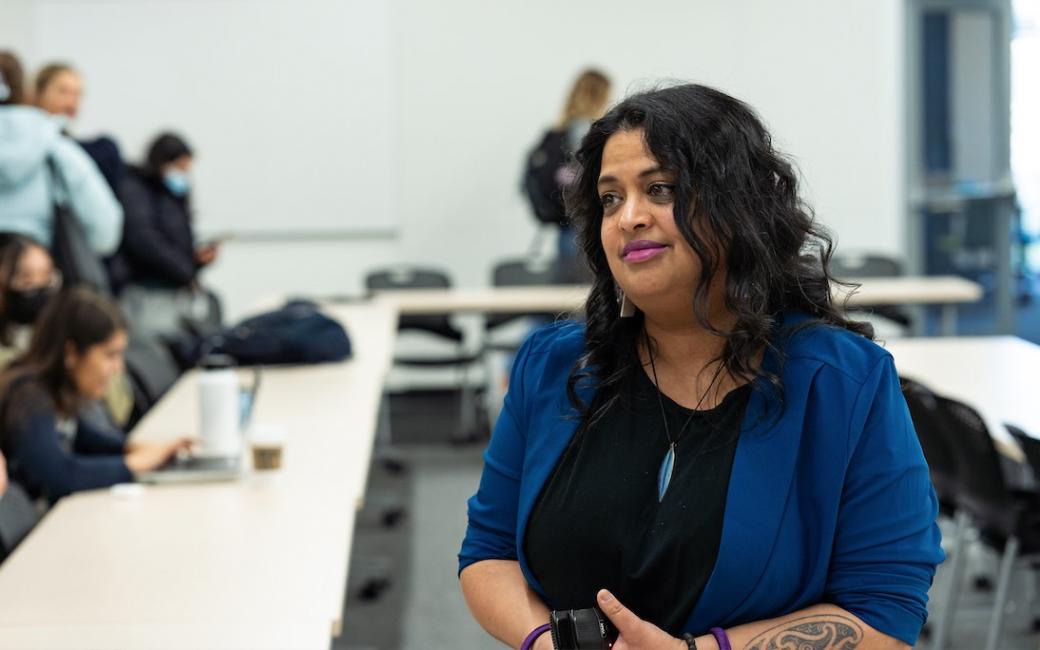 Anjulie Ganti never planned to have a career in academia. But she always had a desire to actively learn and help others by working with communities on the social justice and health equity issues that she cared so deeply about. 
As an associate teaching professor for the University of Washington School of Public Health's Public Health-Global Health major, Ganti teaches students to think beyond getting a right answer; her goal is to see students apply theories learned in class to community-based work and approach everything they do with an anti-racist and social justice framework. For her excellence in teaching and commitment to public health, Ganti is the recipient of the 2023 UW Distinguished Teaching Award, one of the UW's highest teaching honors.
In this Q&A, Ganti shares what this award means to her, what experiential learning looks like, the impact of the major's capstone program on communities, and how to improve health equity when training the future public health workforce.
Tell us the story of how you became interested in public health.  
I have two very distinct memories that come to mind:
The first was when I was very young and would visit my grandmother in India. She had a cleaning person, and I noticed that the way she and others talked about their dreams and life trajectories was very different than the way that I talked about mine. I would wash the dishes and hang out with the cleaning staff, and I remember asking, "Why do people have different dreams?" She responded, "Well, we don't get the same dreams you get. That's just not what's in front of us and going to school isn't actually useful." 
When I visited my grandmother a few years later, the woman was still working for her except she had more kids now. We talked about what it was like in America, how you can be married and not get pregnant at all. She told me, "We don't have  access to those kinds of things, either." This really stood out to me because she wasn't supposed to talk about any of this, much less talk to me at all. 
My freshman year at Newport High School in Bellevue, Washington was another distinct moment. It was during the HIV/AIDs crisis, and our sex education teacher, Barbara Velategui started a program called ASPEN (AIDS Student Peer Educators at Newport). I became an HIV/AIDS peer educator because I was so interested in what she was talking about. I also had a classmate who was HIV positive at age 15. I asked, "How did you get sick?" and they said, "Well, I had sex once, and now I'm going to die in 10 years."
This was also during the Nirvana and grunge era, and many of my friends were queer, punk rockers, who were using drugs (sometimes) and had tough home lives. During that time, I really started to notice that you can die because of who you love. You can die because you're having sex, which is a normal thing for anyone to do and it's all because we're so ashamed to talk about ourselves and our bodies. I just felt like there's so much I can do, and I felt like it's so wrong to die because you love someone.  
How did you become a teacher in the Public Health-Global Health major? 
I never had any plans to go into academia, but in hindsight, I was always an educator. I did a lot of volunteering and speaking to youth about sexuality and health education. I obtained my undergraduate degrees in sociology and social work from the UW, and then got a job at NARAL which is now called Pro-Choice Washington. There, I worked on the Abortion Access project, where we found housing and money to help pay for people's abortions. I also did policy work around sexuality and health education.
I spent five years away from academia working at Aradia Women's Health Center, counseling women on their abortions, reproductive and birth control choices, and assisted during procedures before I decided to go back and get my MSW from the UW and my MPH from Columbia University in the reproductive adolescent health track. I ran the continuing education program at the UW School of Social Work for seven years, and four years at Indigenous Wellness Research Institute before applying to SPH.
You received the 2023 UW Distinguished Teaching Award. What does this mean to you?
Honestly, I couldn't believe it. I am so deeply honored by this award and feel that the credit goes to my family and mentors who taught me everything I know. It's a humbling experience, to be among so many excellent faculty at the UW.
What excites you most about teaching in the major? What do you find most challenging? 
I love that the students and I are all working together to serve the public. The more students I train, the more we can move the needle for population health. If we have 300 students entering the workforce each year, that's a lot of people doing really great work, and that's not something I could do all on my own in one job. I love using anti-racist and decolonizing approaches in the classroom, as it helps students feel seen and allows them to role model these approaches in other classes and in their future careers.
The most challenging part is trying to help students understand that their current work might feel small or like they're not making a giant impact. However, there are steps you take towards bigger dreams and you can't skip steps. Students need to do their best work so they can show up properly in our communities. 
Another challenge has to do with figuring out what experiential learning needs to look like in undergraduate public health and ensuring that students have a deeper understanding of how to use Public Health Critical Race Praxis (PHCRP) in their careers. So as the associate director of experiential learning for the major, that's really where I see dedicating the next five years of my work.
What does experiential learning look like to you? 
Well for one, it's the type of learner that I am. I grew up in dance and with a learning disability, and I don't really get things unless I'm doing it myself, practicing it, making something out of it, etc. Experiential learning matches with the way I learn so it's also a natural way for me to teach. One thing about experiential learning that excites me is translating theory to practice. 
For example, we teach the Cultural Wealth Framework (CWF), which comes from Dr. Tara Yasso, a Latinx scholar in education. I ask the students to apply this to public health and to the community they're working with. How are these communities using aspirational and navigational wealth, the dimensions of CWF, to maintain and/or improve their own wellness?  
We spend time in class discussing and applying this framework to a Quinceañera to help students see that health and wellness are embedded in community via cultural and traditional practices. These are actually protective behaviors that promote health and community. Instead of first thinking about what's lacking, we can think first about what's working, then go to what's lacking. This approach can create an easier path to working with communities.  
If we don't apply theories and frameworks like this, then there is a chance that we can repeat many of the harms already present in the systems that we seem to dismantle. I tell the students, "You're the ones that have to go in and be loud," see how they can include these theories learned in class and apply them to the work so that we're always thinking in this anti-racist and social justice framework. They have to role model how to use PHCRP.  
I want our students to be very aware of their actions and behaviors because that's what makes the most impact. I want them to be thinking about what they're doing and why to make sure that it's always in some way addressing equity.
In your opinion, how do we improve health equity when it comes to training our future public health workforce? 
I think it just goes back to being critically aware of your thinking — who are you missing, who are you not missing? When you say this works the best because it worked the best over there, how do you know for sure it will work over here? The population we're working with has to be part of coming up with those solutions. They know their lives way better than any of us. In fact, they should just be in charge, and we should get out of the way. So how do we improve health equity? To me it's knowing what you're thinking and why you're thinking it, what information you're missing, and what theories and frameworks can help fill in those gaps. 
What impact does this program have on communities? Conversely, what is the impact communities have on our students? 
The work of community-based organizations is enhanced by the work that our students do with them. It helps these organizations do more of that work, whether that be at the advocacy level, or programmatic level so that they are then able to serve more people. 
Capstone classes have different curriculum depending on the community organization partnership. For example, if you're working with the West African population in your section, you're getting that specific education around that population, you're hearing from public health officials and community members in that area. Student projects are then informed by the theories learned in class, combined with the specialized training from their section to then do their capstone deliverable. 
In terms of impact on the student, I think that the program sets them up for the real world, who they need to be as a person, as a professional, and in every aspect of their lives. 
What advice do you have for public health students entering the workforce?  
My advice to students is to always do your best work so that communities want to partner with them. I want students to take pride in their work. To me, our capstone class is a little like a safe lab; students can experiment and have half of the answer, and their colleagues can help to fill in the rest. 
What do you like to do outside of work? Any hobbies or interests outside of public health? 
I love dance and wish I could do more of it! I just want to be around dance all the time, so I joined the Board for the Seattle International Dance Festival. I also like to knit, craft and cook. I enjoy getting the tea from my teenage kids and traveling.