Anne-Marie Gloster grew up eating fish sticks that came frozen in a box, and it wasn't until she was 20 that she was exposed to good food. Now, Gloster is designing food and nutrition classes and teaching the first cooking course at the UW since home economics was removed from the curriculum 30 years ago. Hear more about her love of food and cooking.
What do you do with 11 acres of land in the Blue Ridge Mountains of North Carolina? You buy a couple of vintage Airstream trailers and spend a year in the woods. At least that's what Anne-Marie Gloster and her family did.
"The two trailers, we named Bob and Darlene," said Gloster, a lecturer in the Department of Epidemiology and the Nutritional Sciences Program at the University of Washington School of Public Health. "It just sounded like the perfect 1970s couple."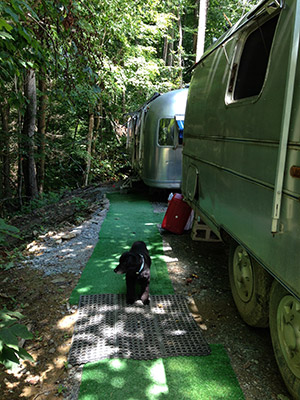 Gloster's Airstream trailers in North Carolina
This experience of downsizing the space they lived in, she explains, helped them to be more adaptable in the face of challenges and new environments. "We're adventurous people, we really are," Gloster says. "We're not afraid to try new things and that's exactly what I try to instill in my students."
On any given day, Gloster can be found in her Raitt Hall office designing curricula and mulling over things like the Shanghai Soup Dumpling Index, or teaching one of her many classes on food and nutrition—topics she has studied for 30 years.
Her classes, some of the most unique offerings at the School, are popular among undergraduates studying for a minor in nutritional sciences. She teaches Culinary Nutrition Science, a collaboration between the School and UW Housing & Food Services, which features weekly cooking demonstrations and hands-on cooking assignments. It's the first cooking course taught at the UW since home economics was removed more than three decades ago.
This fall, Gloster is teaming up with Joseph Maurey—manager and master roaster for UW's Husky Grind—to offer a ground-breaking course on coffee. Students not only examine the nutritional and health benefits of coffee, but they use it as a lens to explore issues related to international development, climate change and global health. The course, called Coffee: From Cultivation to Cupping, also incorporates tastings and roasting lessons.
HIGHLIGHTS
Lecturer, Epidemiology
Lecturer, Nutritional Sciences
PhD Educational Leadership, Policy Analysis, North Carolina State University, 1996
MPH Nutrition, University of North Carolina at Chapel Hill, 1991
BS Food Science and Human Nutrition, North Carolina State University, 1989
Gloster also teaches Introduction to Foods, which "is a blend of food history, food culture and food science," she says. Each class focuses on a specific country and culinary culture, and students look at popular food items—such as noodles and dumplings—from a historical, cultural and social perspective.
"I believe that good nutrition comes from great food," Gloster says. "We have students who have literally grown up with two generations now of microwave cooking and processed foods. I have students who have not ever cracked an egg, never peeled an apple."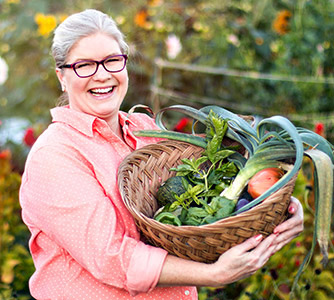 In the United States, rates of obesity are high and poor nutrition and lack of exercise contribute to chronic diseases. What's more, food insecurity is a real issue on college campuses. Gloster aims to educate students about the barriers that prevent healthy eating and arm them with the tools they need to improve their consumption and cooking habits.
"The culinary nutrition class focuses on promoting sustainable healthy eating through culinary confidence and nutrition knowledge," Gloster says. "Now more than ever, we need to better understand what healthy really looks, tastes and feels like."
A North Carolina native, Gloster grew up eating fish sticks that came frozen in a box. It wasn't until she was 20 years old that she was exposed to what she calls "good food." She specifically remembers eating seared mahi mahi for the first time. "It was like that scene in Ratatouille, when he put the strawberry and piece of cheese in his mouth and everything explodes."
This was a pivotal moment during a time of exploration for Gloster. She had originally gone to college to study chemistry. However, "things collided," she says, and she took a break from school and started working. Gloster spent the next few years as a bartender, a coffee roaster and a manager for a gourmet food store. "I loved working with food so much that I decided to go back and major in food science," she says.
Gloster was the first undergraduate at North Carolina State University to compliment a bachelor's degree in food science with classes in dietetics and nutrition. She went on to earn an MPH in nutrition from the University of North Carolina at Chapel Hill and became the chief clinical dietician and assistant director of nutrition and food services at UNC Hospital.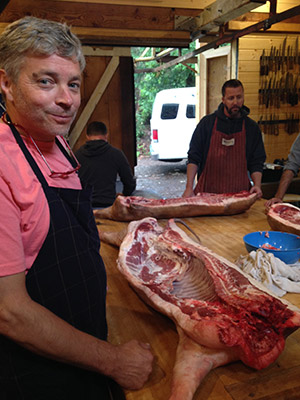 Gloster's husband at the hog-processing class on Vashon Island
"I was in charge of making sure 700 patients a day got fed good food," says Gloster, who eventually returned to NC State to study for a PhD in educational leadership. She moved to Seattle a year ago to help bolster the School's interdisciplinary nutrition program and three-year-old undergraduate minor.
Gloster's excitement for food extends well beyond the classroom, and she is thrilled that home-cooked meals are now enriched by the bounty of the Pacific Northwest. "Food is political, emotional and sensual to me," she says.
The area's oysters, she admits, are the best she's ever eaten and she's stunned by the local and organic food movement. Genetically-engineered foods sometimes lack depth, she notes. "They're engineered to be perfect, but perfect is not what makes things interesting. The richness of our character is in our imperfections."
One of her favorite recipes, she explains, is a roasted poblano pepper stuffed with pork, apples and ginger, then drenched in a walnut queso cream sauce—a dish she saw in the movie Water for Chocolate. Gloster is an aficionado of sorts; she can name the greatest food moments and iconic scenes in film history.
Gloster gravitated to food and cooking because it resonated with her creative side. For her birthday this past summer, Gloster and her husband took a hog-processing class on Vashon Island, where they learned how to butcher a hog "from snout to tail," she says.
Food fuels life for the Gloster family. It not only provides them with the calories and nutrients they need to survive, but it gives them something more. The act of cooking at home and sharing a meal is more efficient, less expensive and healthier, Gloster notes. It also helps them connect with one another, encourages mindful eating and teaches their young daughter the importance of food sustainability.
"We're very big on eating, but eating with intention and respect and love," Gloster says. "And oh my gosh do we pour love into our food."
(By Ashlie Chandler)
Originally Published: October 2016
Anne-Marie Gloster - Faculty Bio