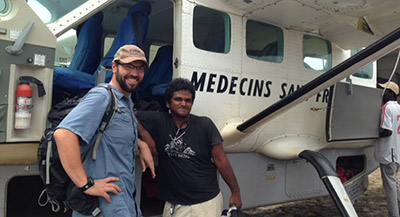 Overseas travel, study and/or work provide extraordinary opportunities for students to gain new perspectives on national and international public health issues while developing a deeper understanding of other cultures. Students planning to travel abroad need to educate themselves about the risks of travel and prepare for potential adverse events. Appropriate measures include visiting the Hall Health Travel Clinic well before departure, arranging for Insurance and Medical Evacuation Coverage, and Registering Your Travel.
Registering Your Travel
With The University
Students who wish to do their Practicum abroad must work with the Office of Global Affairs to ensure due diligence is practiced with regards to student safety. A travel waiver is required to travel outside the U.S. For more information about the waiver and additional COVID-19 restrictions, please visit: https://www.washington.edu/globalaffairs/global-travelers/warnings-waivers/.
You will most likely also need to apply for Independent Learning.
Application deadlines for independent learning programs:
Early Fall/Autumn Quarter – May 15
Winter Quarter – November 1
Spring Quarter – January 31
Summer Quarter – April 15
With the US State Department
For US Citizens, register your travel with the Smart Traveler Enrollment Program. When you sign up, you will automatically receive the most current information we compile about the country where you will be traveling or living.  You will also receive updates, including Travel Warnings and Travel Alerts (where appropriate).
For non-US Citizens travelling abroad, please contact your embassy for travel registration and documentation for international travel.
UW international travel policies updated June 2021
All official international travel must be registered with UW Global Travel Security through the Office of Global Affairs.
• Effective immediately, travel by faculty, other academic personnel and staff is permissible for U.S. Department of State Level 1, Level 2 and Level 3 destinations. For Level 4 destinations, a travel waiver is required within the travel registration process.
• Effective for travel dates starting September 10, 2021, graduate and undergraduate students are permitted to travel in accordance with updated rules for each enrollment type.
Hall Health Travel Clinic
University of Washington Hall Health Travel Clinic offers pre-travel counseling, immunizations, and health advice for adults and children who are planning to travel out of the U.S. or Canada. Pre-travel consultations are available by appointment and must occur at least 4 weeks before departure. 

Additional clinic locations are listed on the UW Medicine page.
Center for Disease Control and Prevention Traveler's Health information for specific destinations and what to know before you depart.
Insurance and Medical Evacuation Coverage
A comprehensive list of insurance for UW staff and faculty can be found through Global Operations Support.
For UW students traveling abroad on official UW programs, please see information on Study Abroad Insurance.
For international visitors to the UW, visit the International Students and Scholars "Other Insurance" page.
Other Resources
Passports, Documents and Visa Information
U.S. Department of State, Consular Services
Passports, visas and consulate information for U.S. citizens and citizens of foreign countries. Also includes information about international law and policy. To find out more information about traveling safely abroad visit the U.S. State Department Students Abroad page.
Currency
OANDA, FXConverter (Foreign Exchange Currency Converter) is a multi-lingual currency converter with up to date exchange rates provided from leading market data contributors and is filtered for validity. Get exchange rates for 164 currencies.