Livable City Year matches UW, SPH student energy and expertise with local government projects
WRITTEN BY ALLEGRA ABRAMO
ILLUSTRATIONS BY GABRIEL LOPEZ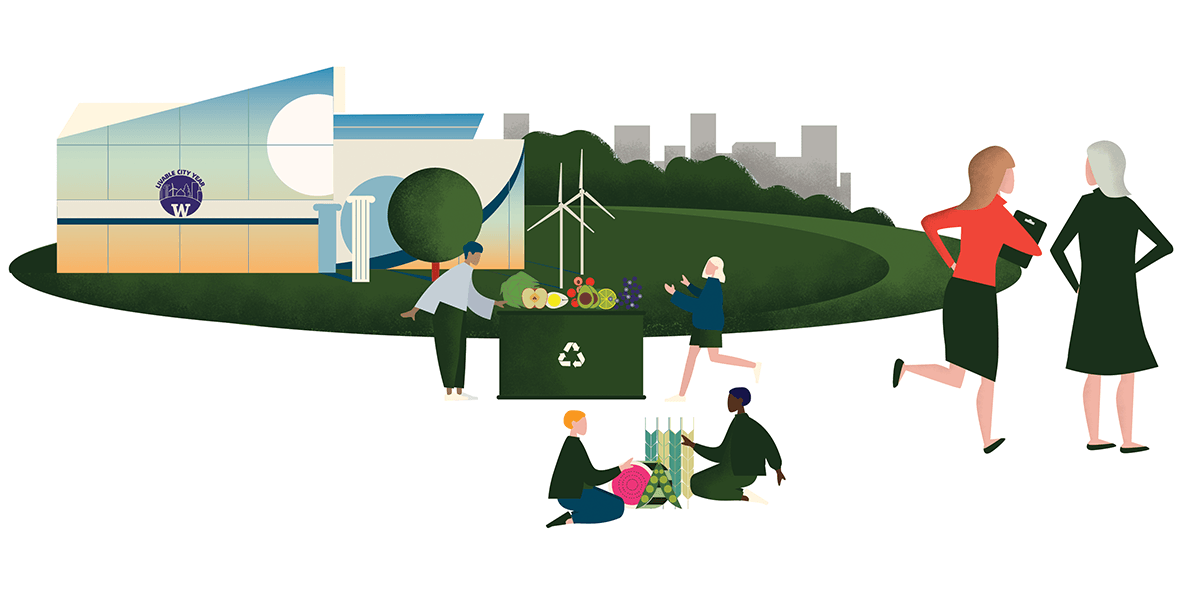 Courtney Schupp never imagined that her graduate research would involve digging through trash.
Yet in 2017, Schupp found herself donning a lab coat and rubber gloves and meticulously sorting each bit of garbage, recycling and food waste from City of Auburn public school lunchrooms. Schupp was especially interested in the volume of untouched apples, unopened milk cartons and other still-edible food that could be "rescued" and used to feed hungry students or community members.
Schupp's project, carried out with a team of nine undergraduates, was one of 16 in the University of Washington's inaugural Livable City Year program, which taps the creativity and expertise of students and faculty across disciplines to address local governments' sustainability goals.
Students gain valuable real-world experience and professional connections, while cities benefit from fresh thinking and added capacity to tackle high-priority projects.
Cities "come in not realizing how contagious the enthusiasm of the students is," said Jennifer Otten, Livable City Year co-director, associate professor in the School of Public Health's Department of Environmental & Occupational Health Sciences and core faculty member of the Nutritional Sciences Program.
"A city not only gets these wonderful, well-done projects," she said, "but community members connect with students in a different way" and get invested in the projects.
In the program's first four years, 861 students contributed more than 100,000 hours to 77 Livable City Year projects, with 12 being public health projects. Participating students and faculty have come from three campuses, 15 schools and dozens of disciplines, including public health, urban planning, business, law, nursing and more.
Livable City Year
By the Numbers
In 4 years
861 students
Contributed




100,000 hours
to

77 projects
from 15 schools
In Auburn, a suburb south of Seattle, Schupp's food waste project uncovered some surprising results.
Across the 15 Auburn schools they studied, the students found more than 85,000 calories of edible food in a single day of waste sorting, which could make a big difference in a city where 16% of people experience food insecurity and more than half of students are eligible for free or reduced-price lunch.   
Kathleen Edman, Auburn's solid waste and recycling coordinator, said the project gave the city valuable baseline data on schools' recycling and composting performance. "We don't have the staff at the city, nor do we have the funds, to do waste sorts for the schools all the time," Edman said. "It was an amazing collaboration."
The students also gave each school an individualized report, which they used to improve their practices. Otten said that more of the schools have created "share tables" where students can leave unopened food for others to take and programs that send children home with backpacks of food.
Schupp, who graduated in 2018 with an MPH in Nutritional Sciences, said she appreciated the chance to get out of the "university bubble" and do on-the-ground research. "It's invaluable to be off the campus and see what's actually going on in the world," she said.
Her findings were published in the Journal of Agriculture, Food Systems, and Community Development in 2018. Otten, who co-authored the paper, is contributing her expertise to a National Academies of Science study on reducing consumer food waste..
At Bellevue City Hall in June 2019, students lined the light-filled concourse with posters highlighting their 30 projects, while the mayor, city council members and department staffers asked them questions and pressed business cards into their hands. Many community members who had participated in the projects also showed up to support the students.
The diverse projects on display that day included several by SPH students, including one outlining strategies to improve emergency communications with Chinese- and Russian-speaking communities, and another that assessed the health impacts of a neighborhood development plan.
Using an equity and sustainability lens, students had also developed best practices for permitting food trucks in public spaces. Today Bellevue is piloting a downtown food truck program that incorporates insights from that work.
As of winter 2020, Bellevue, a city near Seattle on the other side of Lake Washington, had begun implementing 17 of the projects, according to Danielle Verwahren, a management analyst for the city manager.
"A flash mob of engagement" is how Livable City Year had been described to her, Verwahren said. "And that," she said, "was so incredibly accurate."
Now Livable City Year is adapting the model to be more accessible to smaller cities that don't have the capacity to participate on the scale that Bellevue did.
Last year, the program partnered with two local governments: King County and the town of Sultan, population 5,200. For King County, students provided research, analysis and recommendations regarding anti-displacement strategies that the county could consider for the urban unincorporated communities of Skyway-West Hill and North Highline. And in Sultan, students from different courses worked over multiple quarters on a single project to update the city's parks and open space plan. This year, Livable City Year is conducting a data analytics project with the City of Lynnwood's parks department and is continuing its partnership with the City of Sultan. The program is also exploring partnerships with other communities in the future.
"There's so much potential to continue building Livable City Year, even during the pandemic through projects that can be worked on remotely," Otten said. "I'm just delighted by all of the opportunities I see."